CBD Review: Enflower – Utopia Lavender Bath Bomb
Jun 10, 2019 | Romy
Enflower - CBD bath bomb
Pros
Smells amazing
Relaxing
Reduces inflammation
Easy to use
ENFLOWER CBD BATH BOMB – UTOPIA (LAVENDER)
Product Review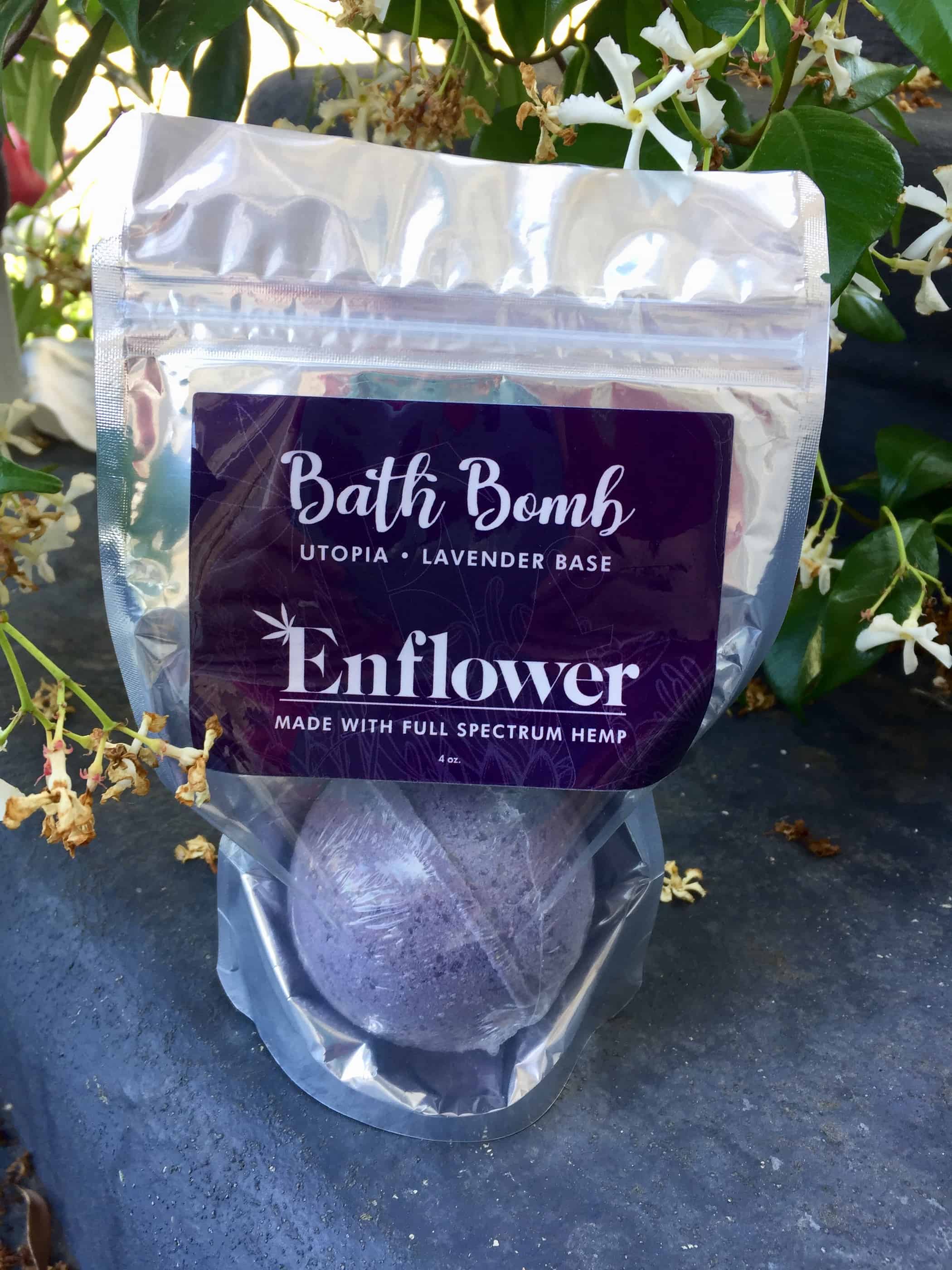 Brand Overview: ENFLOWER
Enflower creates CBD-infused skin and body products for beauty and health. Made with only natural ingredients, Enflower's bath bombs and skincare line uses only the highest quality CBD to bring your beauty or relaxation regimen to a whole new level. The company was founded by Shayna Turbovksy, who partnered with CBD company Steve's Goods to bring you products straight from the farm in Colorado. The products are developed and tested by women, but don't let the marketing fool you–anyone can use these skincare products and bath bombs, so whatever your gender, enjoy the sweet-smelling healing this company has to offer.
Products: Face Masks, Eye Cream, Moisturizer, Bath Bombs, Pain Salve, Suppositories
Price Range ($-$$$$): $-$$$
---
About the ENFLOWER CBD BATH BOMB – UTOPIA (LAVENDER)
Enflower's lavender-based bath bomb is chock-full of healing goodness, including 100 mg of CBD to bring you a relaxing bath like no other. The bath bomb is dubbed "Utopia" because its ingredients promote sleep and rest. CBD can help stabilize your mood and alleviate pain and inflammation. Using CBD in the bath is effective, as the hot water allows for increased absorption into your skin. Enflower uses the entire hemp plant, ensuring potency and quality.
---
ENFLOWER CBD BATH BOMB – UTOPIA (LAVENDER) Specifications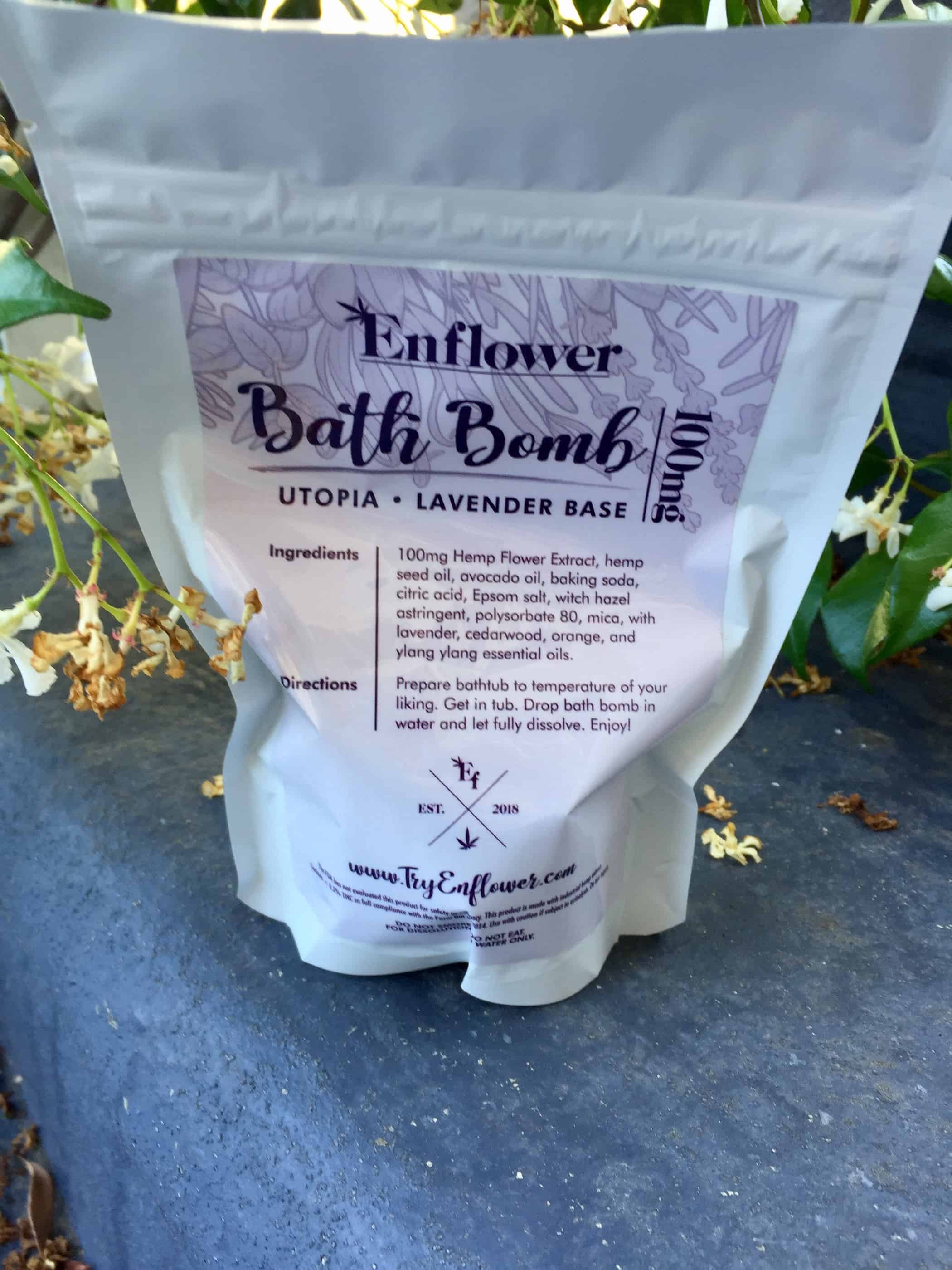 Lavender base

4 oz

Ingredients: 100 mg hemp flower extract, hemp seed oil, avocado oil, baking soda, citric acid, Epsom salt, witch hazel astringent, polysorbate 80, mica, with lavender, cedarwood, orange, and ylang-ylang essential oils

Directions: Drop bomb into your bath and let fully dissolve.
---
How We Tested the ENFLOWER CBD BATH BOMB – UTOPIA (LAVENDER)
Months ago, I was hit by a car and my foot was run over. I've been seeing a podiatrist as I incurred some mild toe fractures and a wound. As the wound is healing thanks to some fancy skin graft made from pig bladder, I've been instructed to soak my foot in lavender Epsom salts for scar healing and to treat inflammation. I saved my lavender-infused CBD bath bomb from Enflower for a day when I had done a lot of walking. After going on a forty-five-minute walk with my sister, my foot was red and hurting. I ran a hot bath and dropped the bomb in.
---
How the ENFLOWER CBD BATH BOMB – UTOPIA (LAVENDER)
The scent was lovely and it permeated throughout my entire apartment, giving it a spa-like feeling. I felt relaxed and ready for bed. The combination of CBD with the Epsom salts and essential oils helped reduce the inflammation in my foot, and also in the rest of my body. CBD-infused bath bombs are a relaxing treat.
Useful and Unique Things to Know About ENFLOWER CBD BATH BOMB – UTOPIA (LAVENDER)
In addition to the Utopia (purple) bath bomb, Enflower has created four more distinct scents. Defense (green) has a eucalyptus base and is infused with clove, cinnamon, lemon, and rosemary. Tranquil (yellow) has a lemongrass base and is infused with eucalyptus, rosemary, peppermint, and bergamot essential oils. The rose-based Sensual (pink) bomb is meant to arouse. The Recovery (blue) bath bomb, with its frankincense base, is infused with tea tree and lemon oil to help heal the skin.
ENFLOWER CBD BATH BOMB -UTOPIA (LAVENDER) Ratings
In the next sections gradings from 0-100 on our review, these grades add up to give the product's overall score.
PRESENTATION • 100
Aesthetically pleasing and informative.
RELIABILITY • 100
Relaxing and pain-relieving.
QUALITY • 100
Super ingredients.
FLAVOR / SMELL / or EASE OF USE • 100
Smells delightful!
VALUE • 100
Fairly priced.
---
How the ENFLOWER CBD BATH BOMB – UTOPIA (LAVENDER) Stacks Up Against the Competition
As far as CBD bath bombs go, Enflower is priced competitively while still maintaining high-quality ingredients. You can even save yourself a little money by buying the entire set of five unique bath bombs. It would make a great gift! There is one brand of CBD bath bomb that could give Enflower a run for its money, however. GoGreen Hemp's Lavender and Milk 'n Honey bombs are less expensive AND they last for at least two baths. You'll only get one use out of Enflower's bath bombs
Saving Money With Enflower Coupons
Save money on all CBD Bath Bombs Coupons here at Save On Cannabis the World's largest online cannabis coupon code directory.
---
Disclosure: I received these products gratis so that I could try them and then share my honest opinion with the SOC community. I am employed by Save on Cannabis to write honest reviews and provided a flat rate payment for the writing of the review. SOC may receive recurring affiliate payments for purchases made based on this content.
Sorry, no coupons were found.
Put the powder in the cup, add water, drink it up, feel the results...is it really that easy? Read our Caliper CBD Dissolvable Powder review.
A Vital Plan Select review of their peppermint flavor organic CBD hemp oil with a high dose of 1,200mg CBD per bottle we see how it worked.
Read our hands-on review of the Vapen CBD Inhaler - Afternoon (Bubblegum). See how it worked for our reviewer and if you should buy.