The Best Cannabis Vacations in the U.S.
Jun 28, 2021 | Save On Cannabis
Now that legal marijuana is taking off in states throughout the U.S., you no longer have to travel to Amsterdam for an unforgettable cannabis vacation. In fact, some of the best 420-friendly vacation destinations can be found right here in the U.S. of A.
Whether you need a break from the repressive laws in your own state or you're just seeking a change of scenery and some new regional sativas, we've broken down the four best 420 vacation spots in the nation.
San Francisco
San Francisco is synonymous with hippie culture, rock music, and world-class tourism. Is it any wonder, then, that the Golden Gate City would be a premier spot for cannabis vacations? Granted, it's not a cheap vacation, but it's one you won't soon forget. Immerse yourself in the city's historic cannabis culture, and make some unforgettable memories.
Best Time to Visit
As a coastal California city, San Francisco boasts idyllic weather all year long. But if you want the full stoner experience, we recommend visiting in the spring, just in time for the legendary 420 Hippie Hill gathering. Each year (except during COVID), thousands of cannabis lovers descend on this legendary section of Golden Gate Park to commune, dance, and take part in the nation's ultimate smoke session.
Reasons to Go
Not only does San Francisco have some of the coolest scenery and tourist stops in the country, but it's also home to the best weed money can buy.
San Fran is just a stone's throw from the world-famous Emerald Triangle (Humboldt, Trinity, and Mendocino counties), known for boasting the best cannabis-growing conditions in the nation. Not only is the bud out of this world, but it's reasonably priced since the region has such a massive cannabis surplus.
Things to See
Be sure to also hit up other hot tourist spots like the Mission District, Alamo Square (home to the famous "Painted Ladies" houses), and the Walt Disney Family Museum.
Must-Visit Dispensary
While in San Francisco, be sure to check out the legendary Grass Roots dispensary, located at 1077 Post St. In business since 1999, Grass Roots is now open to recreational marijuana customers and boasts some of the best lab-tested weed in the city.
Browse a mind-blowing menu of over 500 products of every variety, and sample some of the best medical-grade bud available.
Where to Stay
There are lots of 420-friendly lodging options in the area, including Hotel Kabuki, located at 1625 Post St. This Japanese-inspired boutique hotel is located just steps from the world-famous Fillmore District and is surrounded by the city's best shopping, dining, and public transportation options.
There's a private smoking area in the outdoor zen garden, and the friendly staff is knowledgeable about the local marijuana dispensaries and cannabis scene, so they can dish out excellent recommendations upon request.
Las Vegas, NV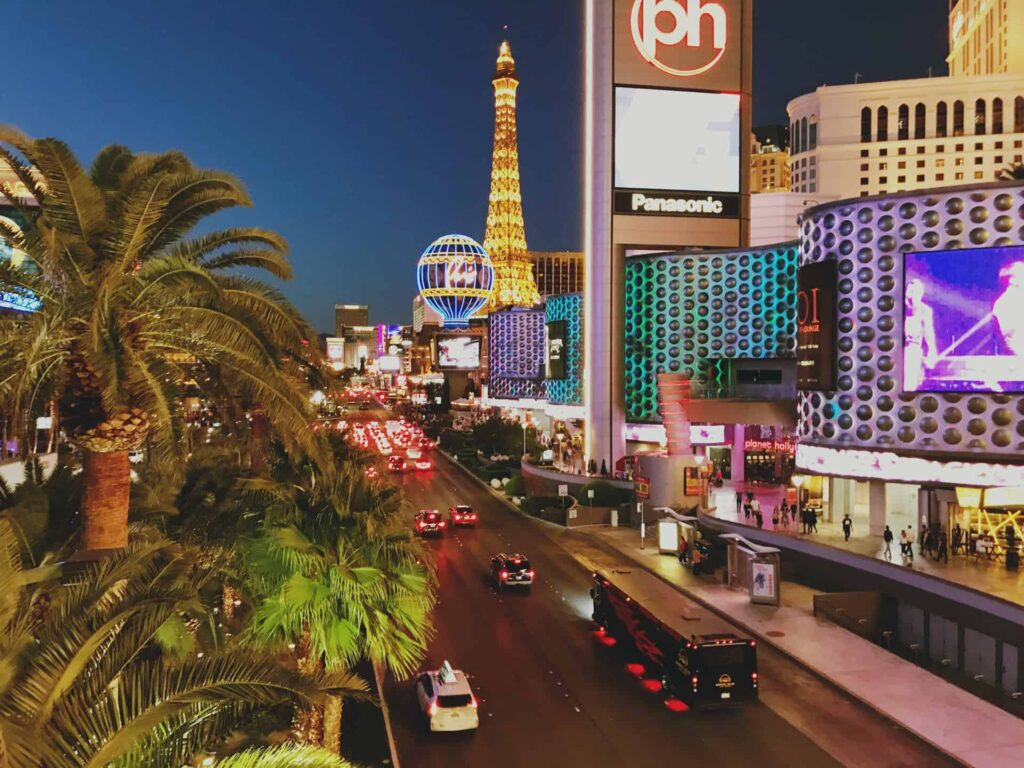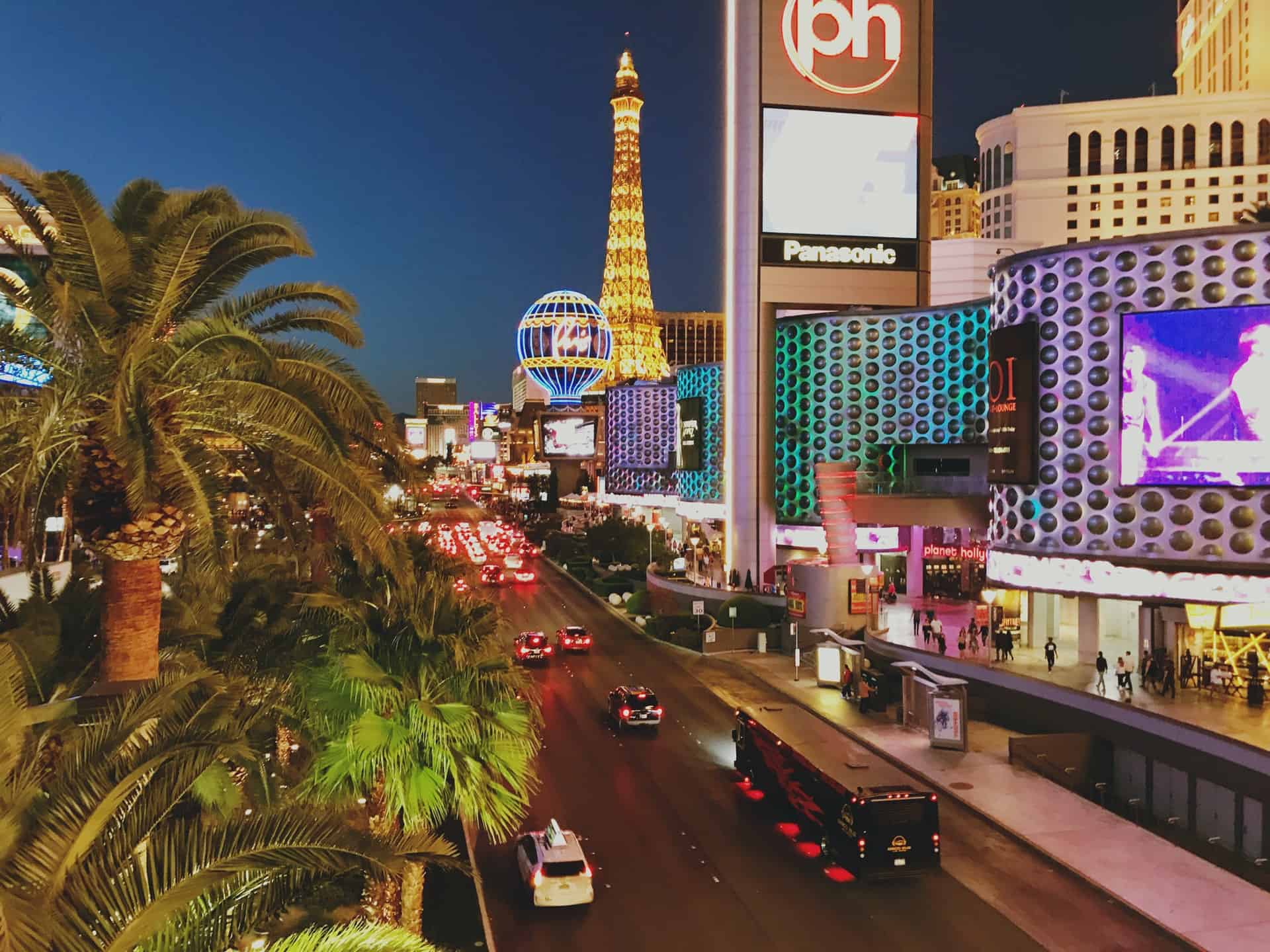 The name "Sin City" takes on new meaning as Las Vegas, Nevada, is fast becoming one of the nation's top cannabis vacation spots. Not only does the city have a wealth of dispensaries located within a mile of the Strip, but Nevada recently took the long-anticipated step of legalizing cannabis lounges, opening the door for a whole new social scene.
Best Time to Visit
Las Vegas boasts more than 350 days of sunshine per year, so any time is a great time to visit. If you want to enjoy a relaxed atmosphere with great hotel deals, avoid holiday weekends like Memorial Day and Labor Day. And if you're not keen on hot weather, you might want to avoid the summer months—Vegas is known to reach temperatures north of 115 degrees Fahrenheit.
Reasons to Go
Las Vegas is the ultimate adult playground, a 24-hour town where the weed, booze, and roulette are always within reach. But it's not just a place to toss your inhibitions to the wind.
The Strip also boasts world-class shows, award-winning restaurants, and breathtaking architecture—all located along a single three-mile stretch (though you're always free to venture beyond the Strip and enjoy the city's other cool spots).
Things to See
Of course, you'll want to check out the other iconic hotspots like the Vegas Strip, the world-famous Las Vegas sign, and the Fremont Street Experience. And if hiking is your thing, be sure to make the trek to Red Rock Canyon.
Must-Visit Dispensary
Planet 13, located at 2548 W Desert Inn Rd., is not the largest dispensary in terms of showroom space (that accolade goes to the aforementioned NuWu), but it is the largest cannabis retail establishment in terms of square footage: 112,000 square feet, in fact.
In addition to its massive menu, Planet 13 offers a one-of-a-kind sci-fi atmosphere complete with illuminating LED floors, 3D wall projections, metal sculptures, celestial orbs, and so much more. There's even a restaurant that serves delicious Mexican fare, pizza, and cocktails. Planet 13 is a mindblowing sight to see, and the THC-rich consumables don't disappoint.
Where to Stay
Las Vegas strictly forbids cannabis consumption in its hotels. Your best bet is to seek out 420-friendly vacation rentals through sites like Airbnb. These are fairly easy to find if you filter your search accordingly, and many homeowners are happy to accommodate cannabis use as long as you're clean and respectful about it. You can also use a site like Bud and Breakfast to search specifically for cannabis-friendly lodgings in the area.
Denver, CO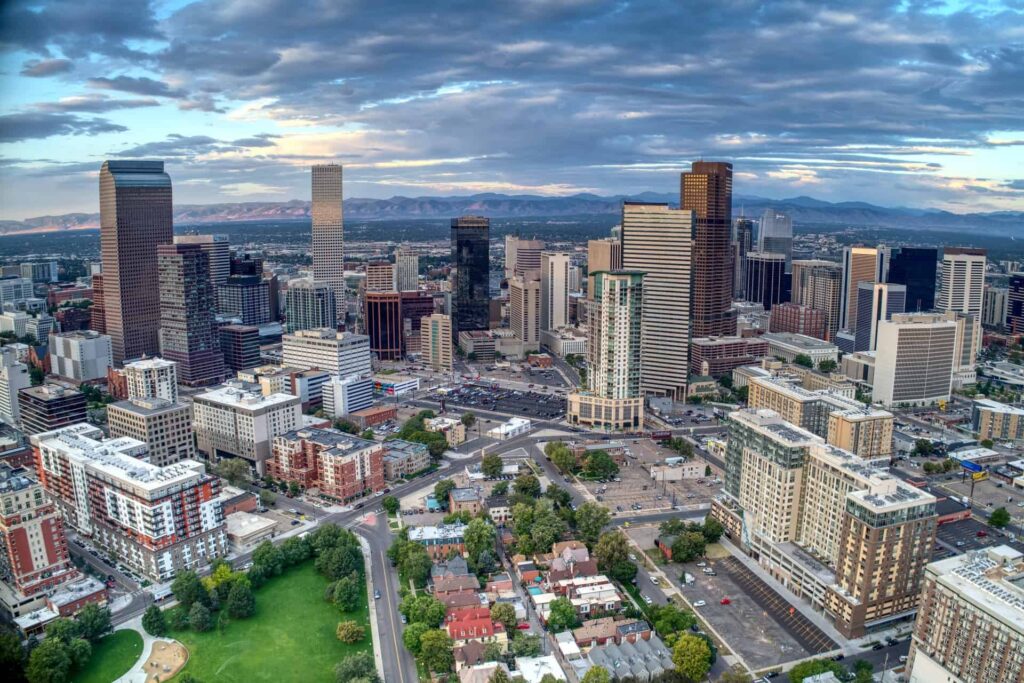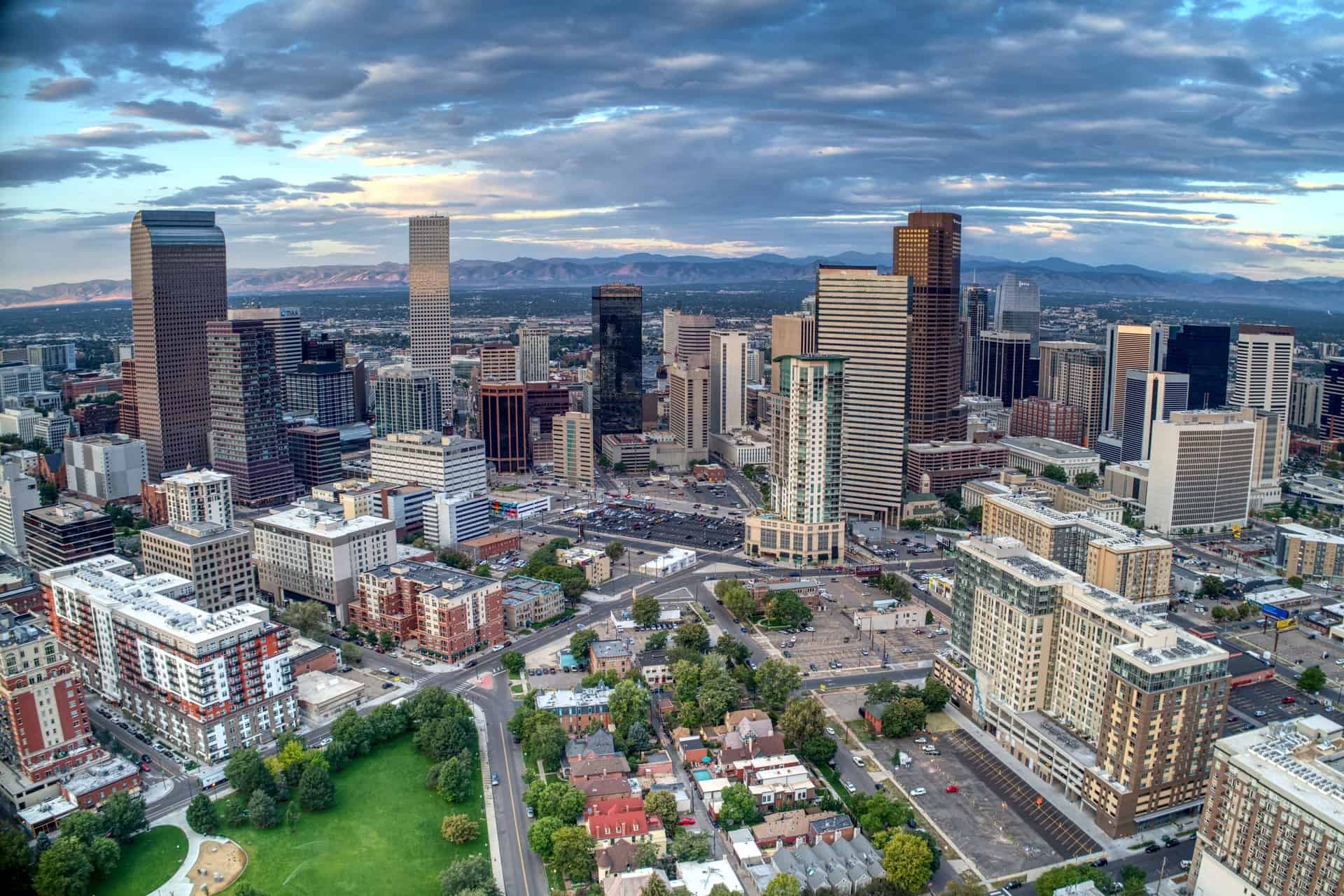 Ever since Colorado became the first state to legalize recreational cannabis, the term "mile-high city" has taken on new meaning in Denver. In fact, Denver is one of the most popular spots for cannabis vacations in the U.S., and for good reason.
Best Time to Visit
Spring and fall are the best times to visit Denver. Consider April, May, September, or October. This will allow you to avoid the summer high season (with its dense crowds and high costs) and the winter chill.
Reasons to Go
Colorado was the first state to legalize recreational weed, and they've had the most time to fine-tune their market. The state has some of the toughest agricultural regulations in the nation, which translates to some of the highest-quality cannabis products.
And since there are over 500 dispensaries in the state, cannabis is always easy to access at a good price. And when you consider the unmatched vibe of Denver (with its thriving music scene, jazz clubs, and thousands of acres of world-class parks and recreation), the city makes for a vacation you won't soon forget.
Things to See
And while you're touring the town, be sure to visit the Denver Art Museum, The Source epicurean food hall, and the Platt Park stretch of South Broadway with its myriad boutiques and dining options. Explore craft breweries in the River North Arts District, and take in a Colorado Rockies game at Coors Field if you're a fan of the great American pastime.
Must-Visit Dispensary
If you only visit one dispensary in Denver, make it Apothecary Farms. Because the facility specializes in terpene preservation, it's known for carrying some of the most flavor- and aroma-rich bud in the state.
Their in-house weed is made using the most refined extraction techniques, and they carry hard-to-find exotic strains like Blackberry Banana Kush and Black Cherry OG. They even carry pure solventless extracts for discriminating dab enthusiasts, and their daily deals are second to none.
Where to Stay
There are lots of 420-friendly rentals in Denver, but frequent travelers love the Bud and Breakfast at Adagio. It's a century-old Victorian home with lush gardens and quiet surroundings.
There's a mellow happy hour that starts daily at 4:20 p.m., and the house is stocked with cannabis delights and munchies galore. Smoking is permitted in the garden (not inside), and you'll have plenty of great bud to enjoy as you receive a wake-and-bake sampler each morning with your chef's breakfast.
Seattle, WA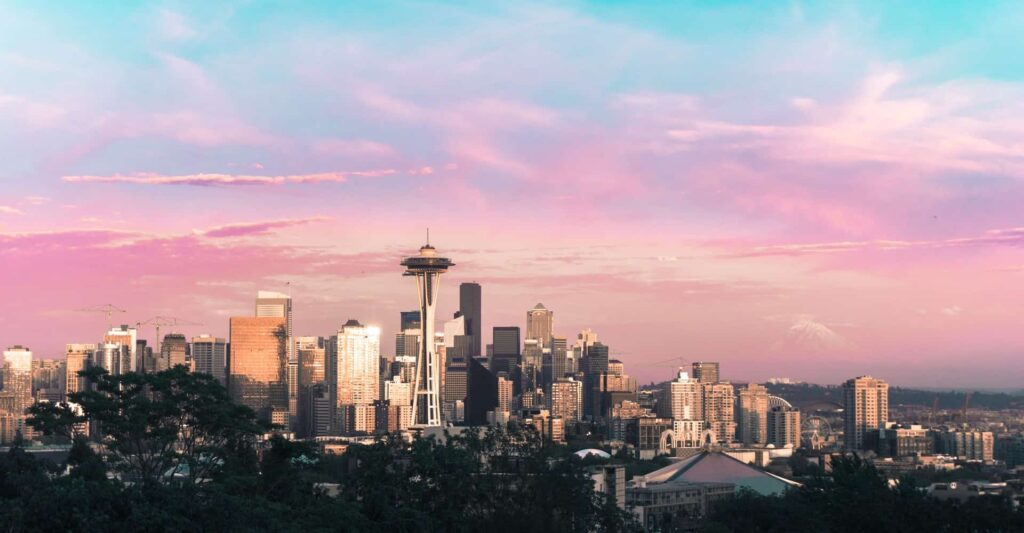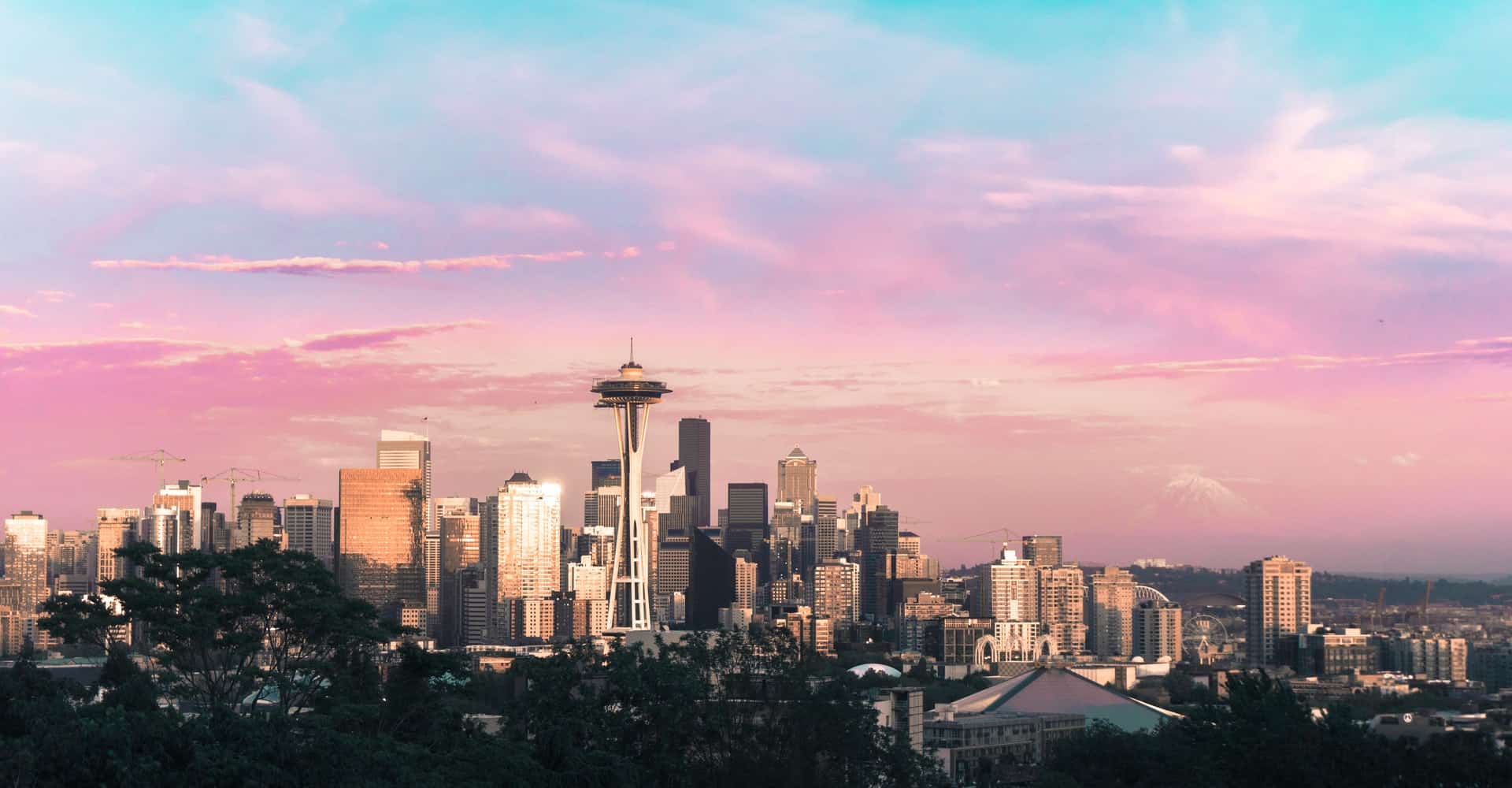 The Emerald City, as Seattle is sometimes called, is a great place to explore and indulge. The adult-use cannabis scene is massive, the sights are stunning, and the vibe is cool and sophisticated. Enjoy an array of indoor and outdoor activities.
And if you're already planning to visit San Francisco as well, we recommend taking a Pacific Coast road trip that starts in the Bay and passes through Oregon and into Washington. You'll get to experience three states with world-class recreational weed, and you'll get to enjoy some of the best climates and scenery around. Take it as far north as Olympic National Park in Port Angeles, and head up to Victoria, Canada, for even more great bud.
Best Time to Go
Summer is best if you're planning a trip to Seattle. It never gets too hot, but you'll enjoy much more sunshine than normal in this characteristically rainy city. Shoot for August if possible. Best of all, because the city is so far north, you can often enjoy some degree of sunlight until 11 p.m. during the summer months.
Reasons to Go
Much like California's Humboldt County, the Pacific Northwest is home to some of the best herb in the country. And Seattle specifically has some legendary local farms like Hollingsworth Cannabis Company and Puffin Farm, which specialize in high-quality, organic cannabis that's sustainably grown and guaranteed to please.
And, of course, Seattle is just an amazing place to see. The region offers the ultimate convergence of urban hustle, mountains, ocean, and rainforests, and national parks. The city is world-famous for its coffee, sports franchises, music, and literary culture. Walk in the footsteps of Kurt Cobain, take a day trip up to Vancouver, and indulge in the finest weed north of the Emerald Triangle.
Things to See
While visiting Seattle, be sure to also check out iconic spots like the 605-foot-tall Space Needle, the Chihuly Garden and Glass museum, the Seattle Great Wheel, Washington Park Arboretum, and the famed Pike Place Market.
Must-Visit Dispensary
Cannabis City is the dispensary in Seattle. Located at 2733 4th Ave S, this doctor-owned pot shop holds the distinction of being the city's first recreational dispensary—in business since 2014.
Cannabis City offers knowledgeable budtenders, an impressive product selection, and competitive pricing. Dispensary founder Dr. James Lathrop is adamant about curating only the highest-quality products for all cannabis enthusiasts. Browse flower, edibles, concentrates, tinctures, vapes, and much more.
Where to Stay
The Bed & Breakfast Inn is an excellent spot for cannabis vacationers. Though this quaint B&B isn't specifically advertised as a 420 destination, the owners of this private residence are known for happily accommodating their weed-loving guests by providing designated smoking areas at various points around the premises.
If you're bringing your own product, make sure to read our tips for traveling with weed.
Did we miss your favorite cannabis vacation spot? Let us know in the comments!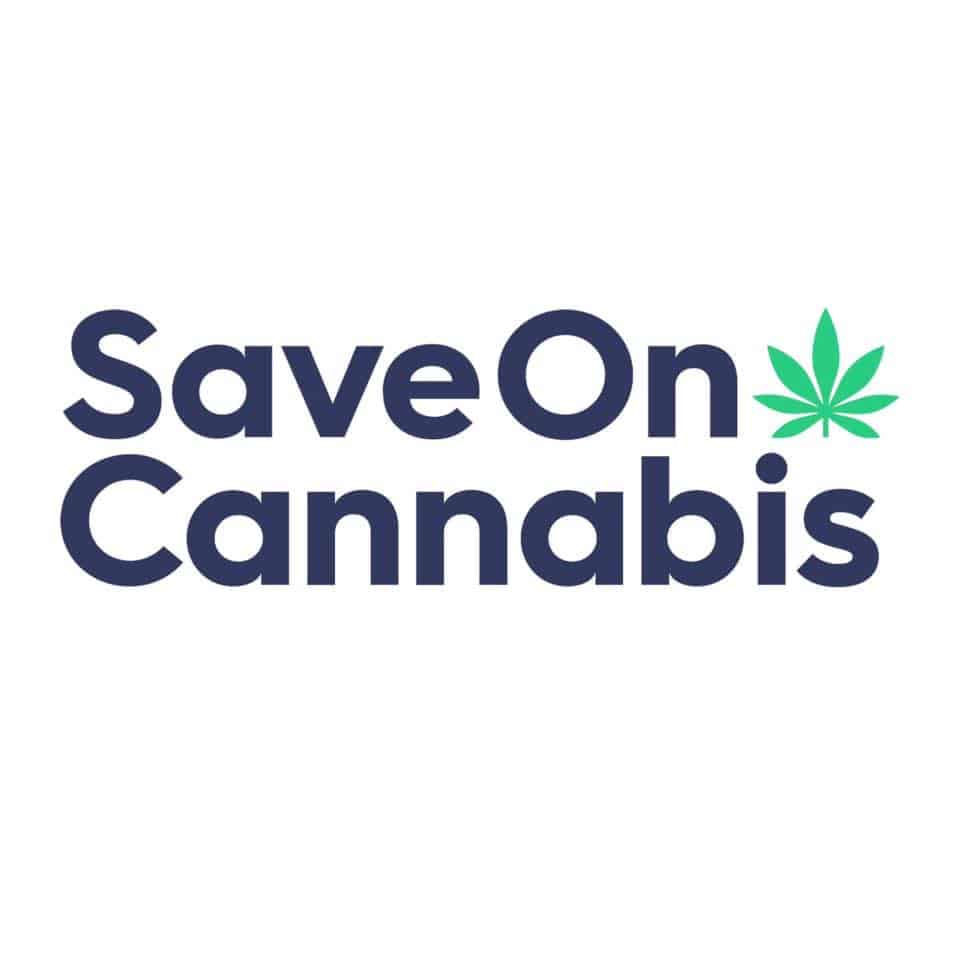 Shop Smarter
Don't miss on the biggest deals! Sign up now for FREE.
Master the Art of Cannabis Cultivation: Unlock Secrets for Potency, Yield, Trimming, and Flavor! Level up your cannabis game now!
Uncover age-old cannabis secrets in Ayurveda and TCM, impacting wellness today. Explore now for compelling insights!
Unlock the Best of Canadian Cannabis: Discover Top Online Dispensaries, Trusted MOMs, & Exciting Trends - Your Ultimate Guide!