CBD Review: InfiniteCBD Nano Freezing Point Topical Cream
Nov 5, 2018 | Romy
InfiniteCBD Nano Freezing Point Topical Cream
Pros
Works To Reduce Pain Quickly
Easy To Use
Smells Amazing
All-Natural Ingredients
Brand Overview: INFINITE CBD
Infinite CBD sells a variety of products made from the purest, all-natural CBD isolate available. All their products contain less than .1% THC so you won't get high but still get the health benefits of the cannabis plant. They add no harmful additives or chemicals to their products. Many professional athletes like UFC fighters, cyclists, and soccer players use Infinite CBD to help them train harder and improve during recovery. As an added bonus, the company offers yummy recipes like their homemade CBD Spice Latte. Sign me up!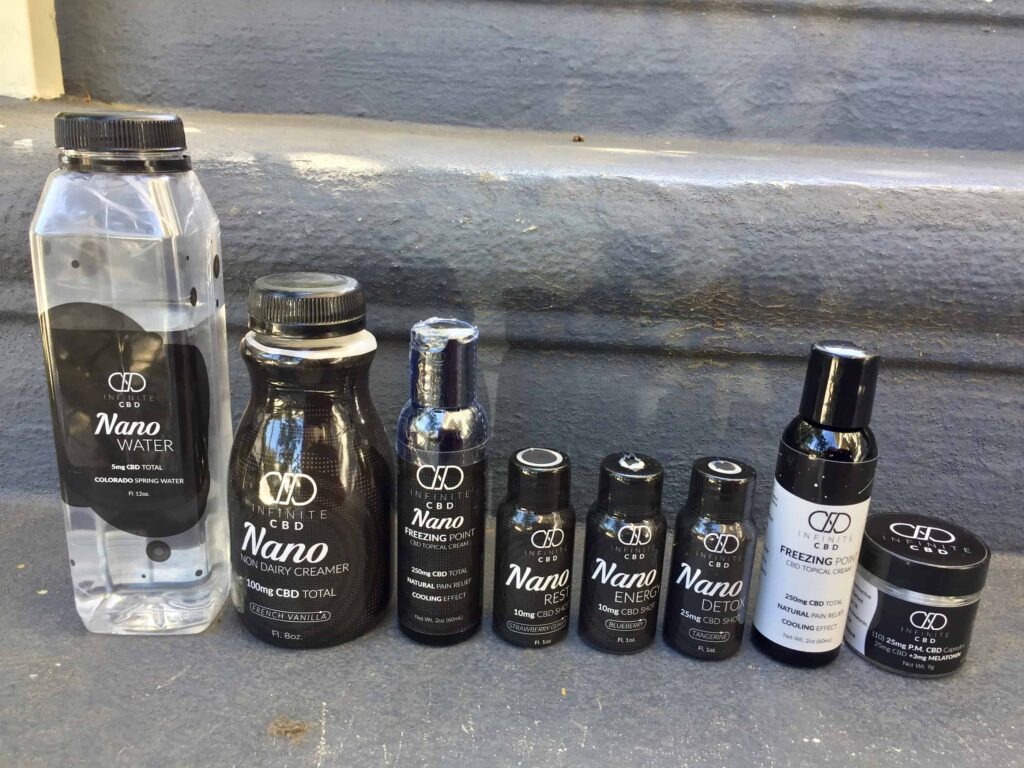 Products: CBD Water, Topical Cream, Shots (Detox, Energy, Rest), Non Dairy Creamer (French Vanilla, Hazelnut), Gummies, Salve (Stick, Tin), Tinctures, Pure Crystalline, Antiseptic Soap, Isolate Capsules, Isolate Droppers, A.M. Capsules, Afterglow Healing Oil, Pet Droppers, Vape Juice, Hair Plasma (Dry Scalp, Conditioning, Shine, Growth & Thickening), P.M. Capsules, Suppositories, Beard Flux Oil, Freezing Point Cream
Price Range ($-$$$$): $$-$$$
About the INFINITE CBD NANO FREEZING POINT TOPICAL CREAM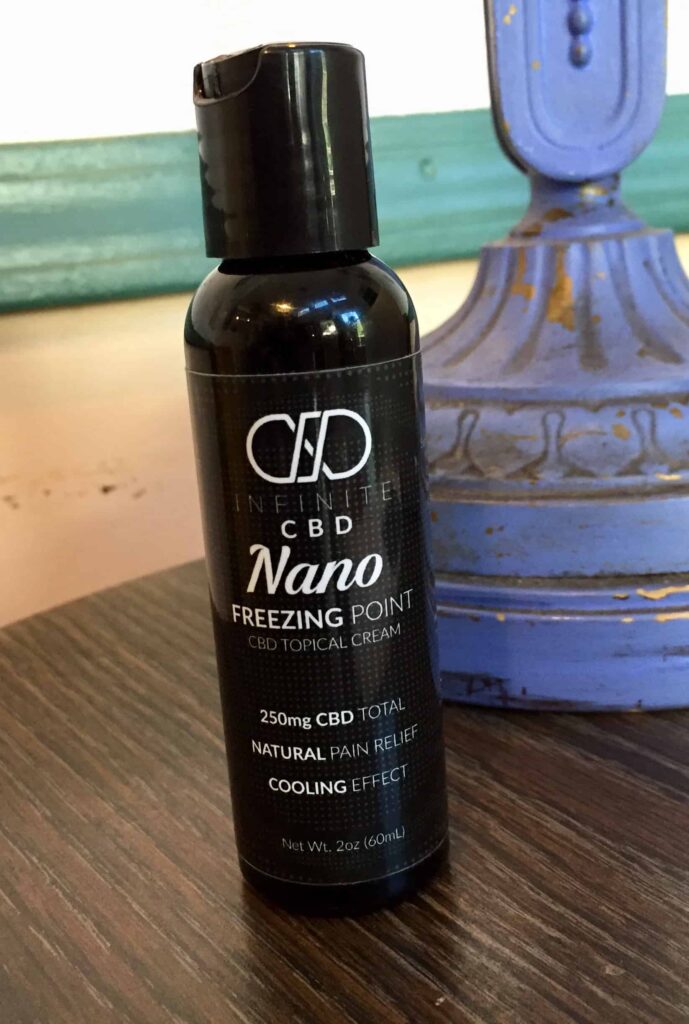 Infinite's topical cream is infused with the company's specially processed CBD that uses nanotechnology for a faster and more effective pain-reducing delivery system. The cream also contains peppermint oil which relieves pain, inflammation, and prevents muscle cramps. The camphor oil creates the freezing effects, working as an all-natural anesthetic. Finally, the eucalyptus eases the pain and inflammation from arthritis, osteoarthritis, and muscle injury.
INFINITE CBD NANO FREEZING POINT TOPICAL CREAM Technical Specifications
250 mg CBD

Net Wt. 2 oz

Ingredients: CBD Isolate, Organic Sunflower Seed Oil, Cetearyl Alcohol, Menthol, Camphor Oil, Peppermint Oil, Eucalyptus Oil, Coco-glucoside, Organic Shea Butter, Xanthan Gum, Apricot Kernel Oil, Phenooxyethanol, Organic Aloe Vera Leaf Juice, Citric Acid, Tocopherol, Lactic Acid, Benzoic Acid, Dehydroacetic Acid, Purified Water
How We Tested the INFINITE CBD NANO FREEZING POINT TOPICAL CREAM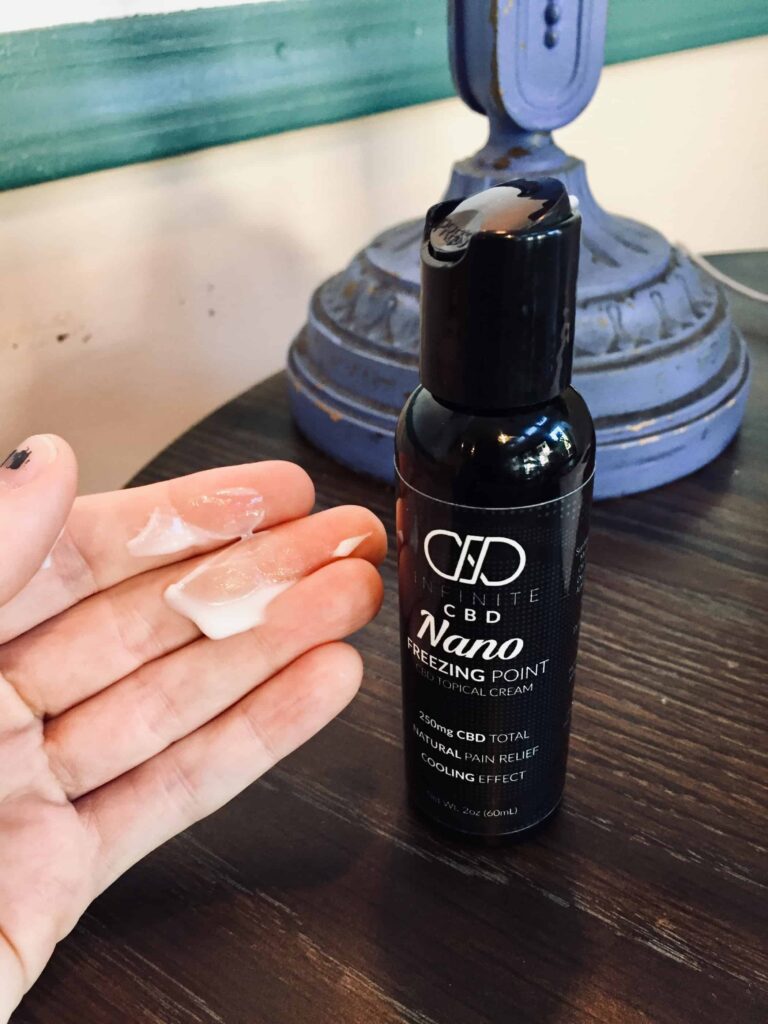 Following surgery, the muscles around my incision site feel sore constantly, like I've run a marathon using only one side of my body. I've become a topical cream addict, reminding myself of those women who have dozens of shampoo bottles in their shower, but for me, it manifests as dozens of lotions and potions next to my bed. I've tried several different CBD-infused topicals, including Infinite CBD's non-nano freezing point cream, which I loved. In testing this product, I opted to compare it to its non-nano counterpart and see if I could tell the difference betwixt the two. Every night before I go to bed, I slather my low back, right hip, and right thigh with some kind of topical since pain keeps me up at night. For the purposes of my experiment, I used the non-nano variety for three nights in a row, followed by three nights using Infinite CBD's nano cream. And for good measure, I also compared it with other CBD topicals: GoGreen CBD Balm Eucalyptus & Lavander and Green Roads CBD Muscle & Joint Pain Relief Cream. I enjoyed using all of these products, so it will be interesting to see which one comes out on top.
How the INFINITE CBD NANO FREEZING POINT TOPICAL CREAM Worked for Me
The Infinite CBD Nano Freezing Point Topical Cream worked immediately to cool down the painful areas and provide short-term respite. After only a few minutes, I could feel the "freezing" effect. I can see how athletes rely on this stuff, particularly if they're looking for a more natural alternative to over-the-counter topicals like Icy Hot or Aspercreme. The eucalyptus and camphor penetrated deep into my muscles, taking the edge off the pain.
Useful and Unique Things to Know About INFINITE CBD NANO FREEZING POINT TOPICAL CREAM
Although the ingredients are almost the same, the nanotechnology with the combination of menthol, camphor, and eucalyptus makes Infinite CBD Nano Freezing Point Topical Cream the superior product when compared to Infinite's non-nano counterpart. I can feel the difference immediately. The nano version has a stronger smell, which is great since it's lovely. Also, the nano version seemed to work quicker and deeper in dealing with pain. While both products work as advertised, I prefer the nano variety to the non-nano.
INFINITE CBD NANO FREEZING POINT TOPICAL CREAM Rating Breakdown
PRESENTATION • 100
Professional and informative.
RELIABILITY • 100
Works immediately to reduce physical pain.
QUALITY • 100
High-quality and all-natural ingredients.
SMELL • 100
Smells amazing! Easy to use.
VALUE • 80
CBD is always expensive. This product is slightly higher than the average.
How the INFINITE CBD NANO FREEZING POINT TOPICAL CREAM Stacks Up Against the Competition
I compared Infinite CBD Nano Freezing Point Topical Cream against two of my favorite CBD-infused topicals: Go Green Hemp CBD Balm Salve Eucalyptus & Lavender and Green Roads CBD Muscle & Joint Relief Cream. It's a hard comparison to make because all three products worked effectively to reduce my pain. Plus, all three products smell nice, and in fact, all smell similar since they use a lot of the same ingredients. How's a girl to choose? You'll have to try them all and make your own decision.
Saving Money With INFINITE CBD Coupons
Save money with CBD Topical coupons here at Save On Cannabis the World's largest online cannabis coupon code directory.
Disclosure: I received these products gratis so that I could try them and then share my honest opinion with the SOC community. I am employed by Save on Cannabis to write honest reviews and provided a flat rate payment for the writing of the review.  SOC may receive recurring affiliate payments for purchases made based on this content.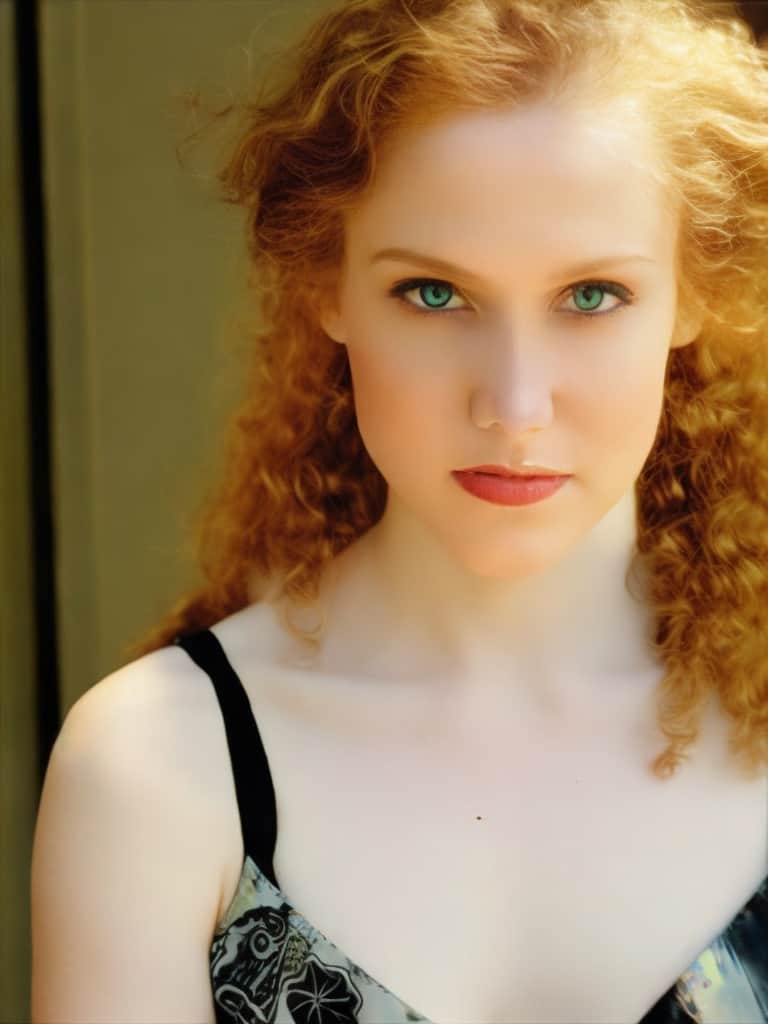 A medicinal cannabis user, utilizing the power of the plant to ease the pains and stresses from long standing conditions that other over the counter or prescriptions could not fix or weren't a natural option like cannabis.  Also, has a background in working directly in the cannabis industry in California within various dispensaries.
Our CBD topicals expert put the CBD•TRU Salve for Migraines to the test. Can this salve be used as a muscle pain topical? Our reviewer tests it out.
See how the LEVO C infuser makes cannabis oil easy. Watch the Lēvo C batch herb oil infusion machine review video & get verified discounts!
In this CBDistillery review we need more sleep, with pain and insomnia, we are hoping this CBN & CBD Sleep Tincture does the trick.