VAPE BRIGHT IS HOW YOU BRIGHTEN YOUR WORLD, EVERY DAY.
HIGH-QUALITY ORGANIC CBD VAPE WITH TERPENES
EXTRA STRENGTH FORMULA – NO CHEMICAL FILLERS
WE PROMISE, YOU'RE GOING TO THRIVE
LIVING ON THE BRIGHTER SIDE WITH VAPE BRIGHT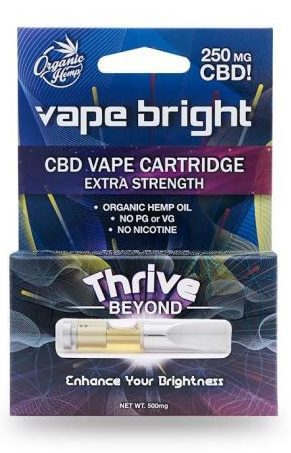 THRIVE BEYOND STARTER KIT
We invite you to go Beyond with Vape Bright's extra potent formulation, designed to push the limits of how much CBD can fit in a single cartridge. Each Beyond cartridge contains over 250 mg of great-tasting pure CBD oil with no PG/VG. Designed with you in mind, the Beyond cartridge is the easiest way to get the most CBD into your body. Each serving of Beyond gives you 10 mg of CBD with much less effort, offering more than 15 times the amount of CBD in each cartridge than our competitors. The 510 thread battery charges quickly and holds a long life, with up to 100 inhalations.
VAPE BRIGHT IS THE BETTER 
WAY TO VAPE YOUR CBD
QUALITY
Your body requires fuel to function properly, and polluting your body with chemicals throws you off balance. Vape Bright always puts quality first, with the finest organic hemp oil on the planet, pure and unadulterated. We always choose the best hemp oils to optimize the versatility and healthful benefits of CBD, and to ensure our products brighten your day with every use.
AUTHENTICITY
We don't speak corporate (except when the attorneys absolutely insist). We are people, just like you, overcoming barriers to our dreams, experiencing the challenges of personal and professional relationships and the everyday ups and downs of being human on this planet. We are dedicated to helping people move forward into greater well-being.
INNOVATION
Thanks to our customers' valuable input, our mission accelerates as we innovate new ways to magnify the healthful benefits of CBD. We sustain ourselves through our belief in progress; and know through focused effort, individuals, businesses and communities evolve. Talk to us, tell us what's great, what could be better. We love hearing from customers.