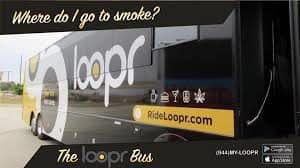 Loopr Coupons
Shipped to You
Hop On Board the Ultimate Marijuana Lounge with Loopr Coupon Codes
Loopr offers a unique and professional cannabis party bus experience for those looking to explore downtown Denver's cannabis culture. With the launch of Loopr's Green Line, customers can safely and smartly travel between hotspots while enjoying all that Denver has to offer. Whether you're a local or visiting Denver, Loopr provides a one-of-a-kind marijuana experience that can be booked for various time-based tours, from hourly to multi-day excursions.
Why Choose Loopr?
Loopr offers a safe and fun way to explore Denver's cannabis culture with its cannabis-friendly Green Line. With an easy sign-up process online or in the mobile app, you can hop on board the ultimate marijuana lounge and explore the best of Denver's nightlife, craft brewing, food, and more. Loopr is perfect for those who want to experience Denver's cannabis culture in a safe and comfortable environment.
Save Money with Loopr Coupon Codes
SaveOnCannabis.com offers verified coupon codes for Loopr, providing customers with the best pricing for their cannabis tourism adventure. Loopr offers various time-based tours and discounts that can be found on the Loopr store page on SaveOnCannabis.com.
Loopr Routes: Your City. Full Circle.
Loopr routes take you on a journey through Denver's lifestyle locals, engaging in the best of the city's nightlife, craft brewing, food, cannabis tourism, and more. Running Thursdays-Fridays 4pm-midnight and Saturdays-Sundays 2pm-midnight, Loopr routes can be joined at any time. For more information, call Loopr toll-free at 844-MYLOOPR.
FAQs
How do I redeem my Loopr coupon code?
To redeem your Loopr coupon code, simply enter the code at checkout when booking your time-based tour.
Can I book Loopr for a private event?
Yes, Loopr offers private events for those looking to celebrate special occasions or corporate events. Contact Loopr for more information on booking private events.
Is Loopr only available in Denver?
Yes, Loopr is currently only available in Denver, Colorado.
What is Loopr's Green Line?
Loopr's Green Line is a cannabis-friendly party bus that takes customers on a tour of Denver's cannabis culture, offering a safe and fun way to experience the city's best hotspots.
People who shop Loopr also like these stores