Grower's Choice Seeds Coupons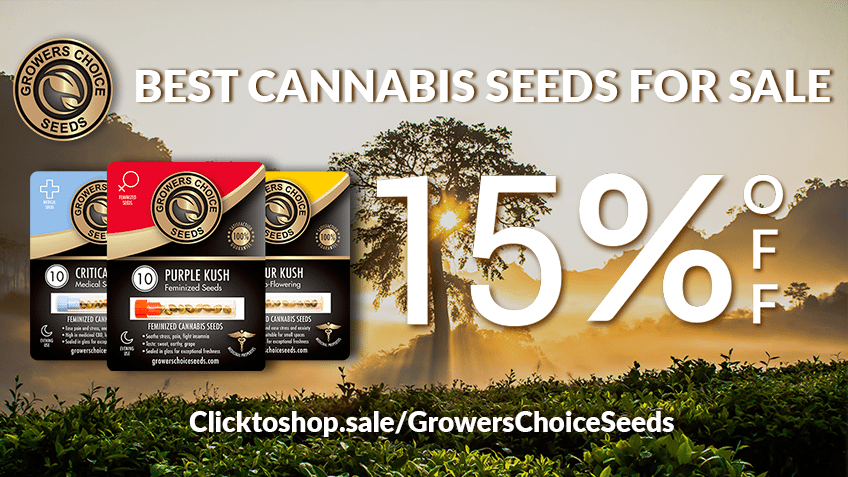 15% OFF Grower's Choice Seeds shipped to your door! Worldwide shipping.
About Grower's Choice Seeds
Growers Choice Seeds coupons for premium cannabis seeds sourced from Europe, Canada, and the USA. Their products are the culmination of 20 years of industry research carried out by horticultural and medical experts, and their high-caliber products are delivered straight to your door enclosed in medical-grade glass vials.
Almost all orders are protected by the company's 90% germination guarantee. Best of all, they're lab-tested. Only seeds that meet the company's uncompromising standards of quality are packaged to ship. Get Growers Choice Seeds coupon codes right here, courtesy of your friends at Save on Cannabis.
Popular Growers Choice Products
Growers Choice Seeds has more than 50 strains of cannabis seeds available, including popular strains like Strawberry Cough, Sour Diesel, Tangerine Dream, and Northern Lights. Every seed is fully feminized, so growers can buy with confidence. There are no males in the batch that can potentially ruin the harvest. The company also offers auto-flowering seeds and high-CBD medical varieties. For instance, their Shark CBD seeds boast 8% CBD and just 6% THC. Other CBD-heavy strains that you'll find include Critical Mango, Critical Mass, and Moby Dick.
Cheese auto-flowering seeds are perfect for growing enthusiasts who want a low-THC strain. If you're looking for a high-THC strain, you might want to stock up on OG Kush seeds. For moderate THC, Skunk Kush (with a THC concentration around 17%) is a popular choice. Order indicas, sativas, and hybrids from this leading seed provider. You can buy batches with 3 seeds, 5 seeds, 10 seeds, or 25 seeds.
Get Growers Choice Seeds Coupon Codes
Growers Choice Seeds offers quick, discreet delivery to all 50 states and Canada. Visit today to compare detailed product information for each strain (including usage, grow information, and benefits) and stock up on high-quality horticulture products. If you sign up for their newsletter, you can enter to win up to $200 in free seeds. If you're not comfortable placing your order online, they even accept orders over the phone.
We have verified Growers Choice Seeds coupon codes, so you can save money on some of the best growing products available. Get your code right here, and start saving!
People who shop Grower's Choice Seeds also like these stores