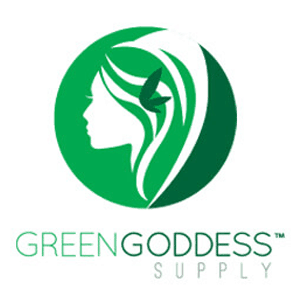 Green Goddess Supply Coupons
Shipped to You
About Green Goddess Supply
Save Money, GREEN GODDESS SUPPLY Coupon Code
Our mantra is to "delight our customers with quality products."
We believe in learning to crawl before we walk, then walk before we run, and so forth. Over the past 25 years, we have always built our business organically, "a brick at a time" so to speak. Therefore, we started by designing and sourcing the simpler products first, and working our way up to more interesting, custom, handcrafted or otherwise unique products.
For example, we tackled the herb grinder — we painstakingly spent months researching and designing the ultimate herb grinder! We think you will love the Green Goddess Premium Herb Grinder.  Based on feedback from our retail store partners, that begat the mini grinder.  From there we branched out into pipes, ashtrays, storage boxes and more.  Behind the scenes, we are now in development on a series of new products to add to our lineup including entirely new categories of product, and some brand new category inventions!
The Green Goddess Supply product chain keeps growing, but the prices always stay ultra-low since with us quality at an affordable price is our main goal.  Every product you use that has the Green Goddess Supply logo on it needs to be perfect and deserve the seal of expertise that our name stands behind.
Premium Quality Products, Without the Price Tag!
GRINDERS
A weed grinder also known as an herb grinder or pollen sifter is a device that grinds your pot or weed into finer and more uniform bits. This makes your bud burn more evenly, therefore, maximizing efficiency. Weed smokes better when it's broken up.
The chemicals are actually along the surface of the plant, so burning all of the surface area is key. You can do it with your fingers but it leaves your fingers smelling like weed, and the results are very uneven. A lot of grinders have a "catch chamber" that the ground up weed falls into. This Pokeball and death star grinder has holes and then a screen so as it grinds the fine particles of the weed falls into a chamber.
This Green Goddess grinder is a four piece grinder. The top piece is a magnetic spinning lid with teeth on the top/underside. moving downwards. The second piece forms the main grinding chamber and has teeth extending upwards (so the weed is trapped between the top and bottom teeth). The 3rd piece forms the "catch Chamber" below the grinding chamber and you can actually use your grinder as a storage jar if you want to, and leave the weed in it. This catch chamber has a screen that allows kief/pollen to fall down into the 4th piece which forms the pollen chamber and is the bottom of the grinder. This is the "finished" product, and you can actually use your grinder as a storage jar if you want to, and leave the weed in it.
Cannabis has little crystals call "trichomes" that sit on the plant surface. Those trichomes have all the chemicals – THC, CBD, and the terpenes that give weed its flavor and scent. Those crystals can fall off as you grind, and fall through the screen to the bottom chamber where you can collect the fallen pollen. After a few grinding sessions, you'll accumulate enough weed pollen sprinkle over your next bowl or joint, or bone, or pipe. The modern grinder tends to be cut out of aluminum and their footprint is like a diamond shape if you look straight down at it from the top… so as weed comes into contact with the length of the teeth, it's a sharp point that slides up the weed.
Too many grinders overload their chamber with TOO MANY small teeth, and therefore there's not as much negative space left for holes — they're either too small, or there are too few, or (even worse) both! The problem is that if the holes are too small and there aren't enough, the ground up herb stays in the chamber and doesn't "fall away" to the catch chamber below… it just stays in the main chamber, spinning around and around, jamming up… you want the smaller ground up stuff to fall away to the bottom catch chamber and get out of the way so that the teeth can keep working on the larger pieces still left.
DUGOUTS
https://youtube.com/watch?v=sD4do4_Ivxo
Dugouts and one-hitters are original throwbacks to the 70s era. They're old school! A dugout is a convenient little portable device, smaller than a pack of cigarettes, that lets you tote a small stash of weed and a one-hitter pipe aka the "bat".
The bat or one-hitter is designed to let you load it up with just enough for one big hit. So you can take one hit, then put it away. It's easy and convenient to carry around in your pocket, purse, backpack, gym bag or toss it in your ashtray or glove box, etc.
Dugouts come in different styles, materials and designs, but they generally are 3" or 4" tall, and about 3/4" thick. Green Goddess wood dugouts are hand carved, hand polished and come in a bunch of different designs. Because they're handmade, no two are exactly alike. We recently came out with new heavy duty aluminum dugouts that are super rugged for tossing around. They're great, especially if you prefer more heft and substance; ideal if you want something that won't chip or crack if you're a bit rough with it.
They come in four colors, green, black, blue and red.
This Saxophone novelty pipe is shaped like a Sherlock Holmes pipe and has a great, smooth draw.
Originally we produced it because it was a fun novelty, but quickly realized it's actually a really great pipe!
Unlike others, this smoking pipe is made of Zinc, not aluminum, so it has better heat insulating properties There are some other small, more basic sax pipes out there but ours is a bit larger, and more "deluxe" than anything else we've ever seen. This also has a trap on the bottom that can be removed with a screw for easy cleaning.
We also have a number of other novelty pipes that are pretty sweet. Like a lipstick one, spark plug, lighter, magnetic block hash pipe.
POLLEN SIFTERS
A pollen sifter is also known as a Kief Sifter, Shaker Box, Kief Box, or Chicken Pox These are boxes that you toss your weed into and they contain a screen that's used to collect the trichomes of the cannabis plant after shaking it up a bit Cannabis has little crystals called "trichomes" that sit on the plant surface. Those trichomes have all the chemicals such as THC, CBD, and the terpenes that give it its flavor and scent. At room temperature, they crystallize and can fall off. So shaking weed across the screen will cause trichomes to get knocked off and fall into the bottom chamber where they can be collected. This is super potent! So think of this stuff as your bonus for shaking up your herb.
After a few shaking sessions you'll accumulate enough pollen to sprinkle over your next bowl or joint, or bone. You may even want to use something called a pollen press to make bricks of hash the Green Goddess pine sifter box has a holder in the underside of the lid for holding rolling papers and a rolling jig to help you roll easier. It's got a 100-micron screen and a bottom catch chamber for collecting the pollen. the bottom chamber is lined with tempered glass to make it easy to scrape up the kiefy goodness!
Green Goddess has 3 different sizes – a mini for up to 1/4 ounce of herb; a medium sized one for 2-3 times as much, and then our larger pine sifter box – not actually sure how much it holds, but quite a bit more than an ounce. Our mini and mid-sized boxes come in hardwood (walnut) and bamboo. The larger one is made out of pine.
THE MINI VAPE
If you like a good vaporizer, check out the brand new, MiniVape from Green Goddess Supply!  This unit packs several really cool features into a state-of-the-art vaporizer:
Quick Change Magnetic Coupler!  Special Magnetic Coupler lets you snap cartridges in and out quickly and easily without having to screw and unscrew every time you want to switch cartridges. Additional couplers are also available – put one on each tank, and swap tanks as often as you want, without undue wear and tear on the threads.
No Leak Design!  The special coupler has a unique, patented no-leak ball bearing design to turn any standard cartridge into a better quality no-leak unit.
THREE adjustable power levels!  You can use the single button to rotate through power levels:  low, medium and high!
Super compact, discreet design!  Instead of stacking the battery, heating coil, and cartridge vertically like the typical pen/stick vapes, the cartridge is located to the side of the battery, making the whole unit smaller and more compact.  You can "palm" the unit and completely hide it in your fist.  It looks like a typical mini vape mod box. Easily fits in a pocket or purse, with less chance of damaging the tank.
Comes complete with USB charging cord to recharge the internal battery from any common, standard USB port.
At Green Goddes Supply we are always working on our next product alongside advancing our old inventory, stop on by and see what we have available for you Today!

A message from Green Goddess Supply:
Our Founder / CEO has been selling online since the dawn of eCommerce in the mid- 1990's, and has built numerous successful online brands and product lines over the years, building and growing (and ultimately selling) popular e-commerce businesses.
Now our management team has turned its attention to marrying our 25+ years of eCommerce expertise with our love of sourcing and providing high-quality products. We have been working hard to design and perfect the highest quality products in each sub-category, bringing you only the very best. Our mantra is to "delight our customers with quality products."
We are bringing these items direct to consumer via online e-commerce sales and also selling them wholesale to retail stores – ask about our wholesale catalog, retail countertop displays, and our smoke shop marketing program!
Our commitment to you – great quality products at a reasonable price.
Always get the best pricing with Green Goddess Supply coupon codes and more at the World's largest online cannabis coupon code directory, Save On Cannabis.
People who shop Green Goddess Supply also like these stores