Vape Bright • CBD Thrive Vape Review
Nov 22, 2017 | Save On Cannabis
CBDCBD ConcentratesCBD TincturesCBD Vape OilsSave On Cannabis Verified
This review was originally posted by Trent Vaughan at CBDoilReview.org.
View the original review here.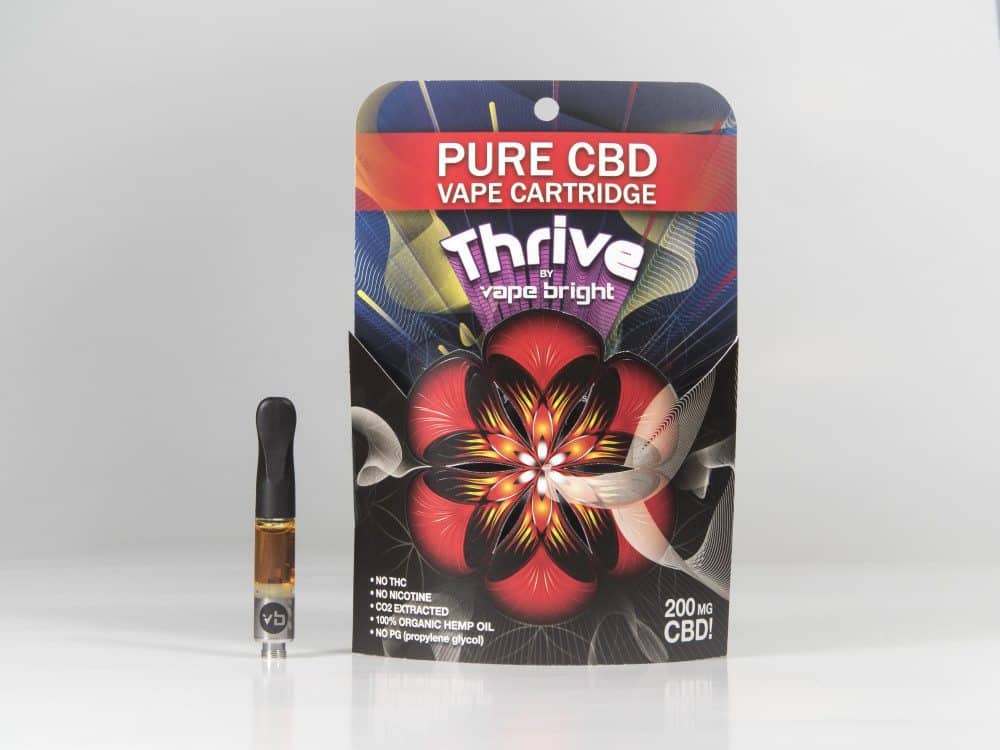 These cartridges and vaporizer pens are nearly identical to the pens used in the Pure Hemp Botanicals vape products. In fact, the battery part is identical (except the branding label) and the cartridge is the same design except for the mouthpiece, which is a bit more aesthetically minded in terms of its design than the Pure Hemp Botanicals cartridge's mouthpiece and the fact that the entire cartridge is slightly thicker.
The ingredients, however, are another story. This product has no other additions to the CBD oil other than terpenes that are reintroduced to the oil. This should not have any ill effects as long as they are isolated correctly from cannabis and should re-create a natural cannabis flavor in the oil. I very much appreciate the minimalistic ingredient list! I have wanted this exact product for quite some time now. It is great to finally see one available!
The vaporizer case that comes with the product has a thin brushed aluminum shell. The case feels very light and cheap with the foam lining being glued down in a non-uniform manner which adds to the "chinsy" feel and appearance of the case. That being said, the plastic itself does appear to be rather durable and I do not expect this to fall apart or break in my pocket; so I am not very bothered by these insignificant issues with the case.
I have been carrying the case for some time now and have not yet experienced any leakage from these cartridges which is great. The cartridge comes with a silicone cap on the bottom of the cartridge while it is in the tube it is packaged in. Keep that cap! I have been keeping that on the cartridge while carrying this inside its carry case and haven't had any issues yet. I am guessing this may have something to do with that fact; either way, it's a great addition and I am very pleased Vape Bright included this. It really shows a concern for a functional product and a happy customer. I have been ultra pleased with this product's performance as well. The Pure Hemp Botanicals product seemed almost too strong; although that isn't the right word for it.
This Thrive product is plenty strong, but I like it more because I think it may have been isolated more selectively. The PHB product made me feel a bit "side-effecty" if that makes sense. Almost like there were trace amounts of THC left over. This is not something I desire as my work and personal life require me to think on my feet, respond quickly, and think clearly. While I do get very noticeable pronounced effects from the Thrive vape product, they do not produce any of the undesirable side effects that I often experience with the PHB vape product. Not to mention the PHB pens have d-limonene added which I wish wasn't the case. Don't get me wrong, this product can be sedating; but without the side effects, I experienced with the PHB vape pens. Your experience may be different.
Quality
-The CBD oil is CO2 extracted from 100% organic hemp which is phenomenal. This leaves no possibility of toxic residue left behind by the extraction process. Using supercritical CO2 extraction is the preferred method because of this fact.
Taste
-The flavor is quite nice and definitely has an earthy cannabis flavor. There are subtle pine hints as well which are nice.
Ease of use
-The product comes with its own case for easy portability and, being a self-contained vaporizer, is incredibly convenient and easy to use.
Administration
-Low watt batteries with short 1-2 second bursts are the recommended method of administration according to Vape Bright. High watt batteries or long inhalations can result in a burned out cartridge.
Dosage
Each 1-2 second inhalation is supposed to deliver 1mg of CBD
Value/Cost per milligram
-1 cartridge is $50 which contains 200mg. This puts it at 25 cents per milligram which is a mid-high range in terms of price, but high in my opinion.
Brand trustworthiness
-Independent lab testing of their product is available freely on their website which I like.
Would you buy it again? Why/why not?
The cartridges do last for several uses, giving you a lot more out of them than you would think to look at them initially. I have had oil leaking issues with these types of cartridges (something to consider as it can add to the cost of use). This creates a very sticky mess and is difficult to deal with; not to mention the high cost of these oils makes even the smallest leak a costly one. However, my Vape Bright cartridge has not leaked yet at all. While I VERY much appreciate the absence of additional ingredients the price per cartridge is rather high; although for this type of convenience product this Thrive product is currently the best one on the market and also the cheapest among other e-cig style vaporizer products. I would purchase this product again, but I wouldn't make it my regular source of CBD oil due to the high-cost reason predominantly. This product definitely fulfills a need where you need high-quality extracts in a convenient and portable platform, but you do pay a premium for the convenience just like with anything. The addition of terpenes being reintroduced makes this product very pleasant from a taste and efficacy perspective. This is by far the best CBD vape product I have ever used. If this product was brought down to the around 13 cents per milligram price range I wouldn't think twice about making it an everyday use product. It really is that good! Amazing product; way to go Vape Bright!! Thanks so much! ?
Follow-up idea: These cartridges can be opened and refilled. Vape Bright, maybe you could sell a "refill kit" with a cheap plastic syringe full of oil that has a narrow tip that could be inserted in the hole at the top of the cartridge that is plugged by the silicone stopper. If this refill kit could be offered at the 13 cents per milligram price point I can guarantee you at least 1 more faithful customer! ?
Sorry, no coupons were found.
We got Delta-8-THC legally shipped to us online and got to see how the high was in this Flora CBD Delta-8-THC Gummies review.
Infinite CBD review of their isolate based cannabis CBD products, we test their 3 top selling items. See. how each product worked.
Having trouble sleeping on a regular basis our reviewer, in this CBDistillery review they try out the Sleep Gummies with CBD & Melatonin.