SeraLabs: CBD Miracle Gummies Review
Jul 15, 2020 | SOC
CBDCBD EdiblesCBD Gummies
Sera Labs CBD Miracle Gummies
29.95
Pros
Hemp is sourced from U.S. farms
Medium-strength potency
CO2 extraction
Naturally flavored
Manufactured in FDA approved facility
Easy to zip the bag closed
No high fructose corn syrup
Cons
Only available in CBD isolate formula
Mediocre taste
Not a complete set of lab testing
Sera Labs CBD Miracle Gummies
Product Review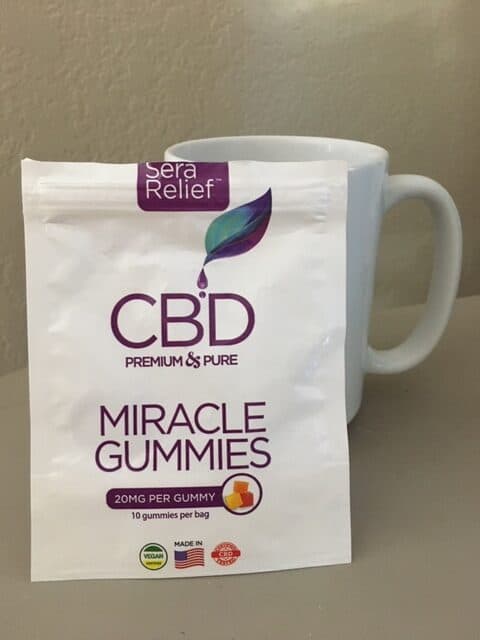 Brand Overview:Sera Labs
Sera Labs is a female-owned CBD business based out of Sherman Oaks, CA. It offers both full-spectrum and CBD isolate products across its line of gummies, topicals, oils, pet products, and more. The company sources its hemp from farms in the United States and utilizes CO2 extraction at an FDA approved facility. Furthermore, the company posts results from its 3rd party lab testing for each product it sells.
For its CBD gummies, the only test performed was the "Cannabinoid Analysis." Other products may include more testing, but at a minimum, it appears that Sera Labs does a Cannabinoid Analysis for every product.
The results of its Miracle Gummies show levels of CBD and CBDV, but every other cannabinoid was undetected. This confirms the gummies are THC-free. And lastly, the report told us that each gummy contains at least 20mg of CBD.
Products: Tinctures, oils, edibles, topicals, pet and beauty products
Price Range ($-$$$$): $$$

---
About Sera Labs CBD Miracle Gummies
Sera Labs CBD Miracle Gummies were formulated with hemp-derived CBD isolate. The hemp used to make this product came from U.S. farms. These gummies are vegan, gluten-free, and have 20mg of CBD in each bite. There are 10 fruit-flavored gummies per bag.
Although the package doesn't state the exact fruit flavors, the gummies are red, orange, bright yellow, and pale yellow in color. Our best guess in terms of flavors is as follows: berry, orange, lemon, and pear.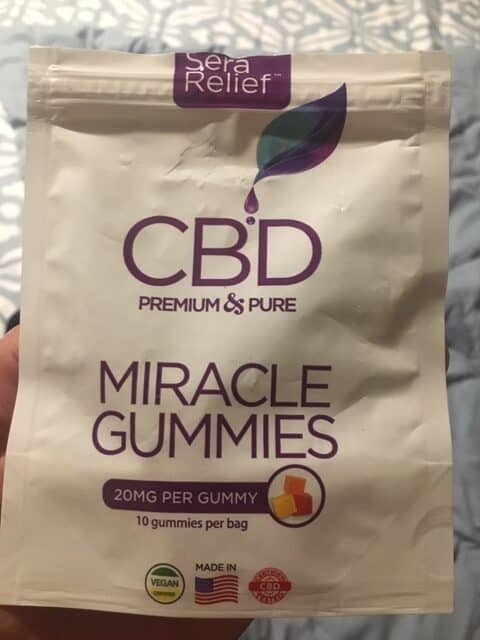 The purpose of these miracle gummies is to get a slow-acting dose of CBD via ingestion. It's a discrete way to consume CBD and given the small size of the bag, you can easily fit them in a purse, bag, or drawer.
---
Sera Labs CBD Miracle Gummies Specifications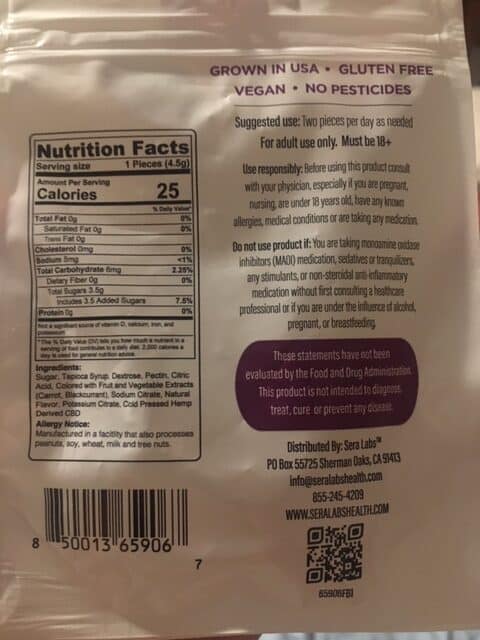 ---
How We Tested the Sera Labs CBD Miracle Gummies
Before writing this review, I ate 1 to 2 gummies per day and finished the entire pack within a week. I consumed them at different points throughout the day, mid-morning, afternoon, in the evening, and 10 minutes before bed.
For me, it didn't matter whether I ate food before or after taking the gummy. I think they're meant for any time of the day regardless of your eating schedule.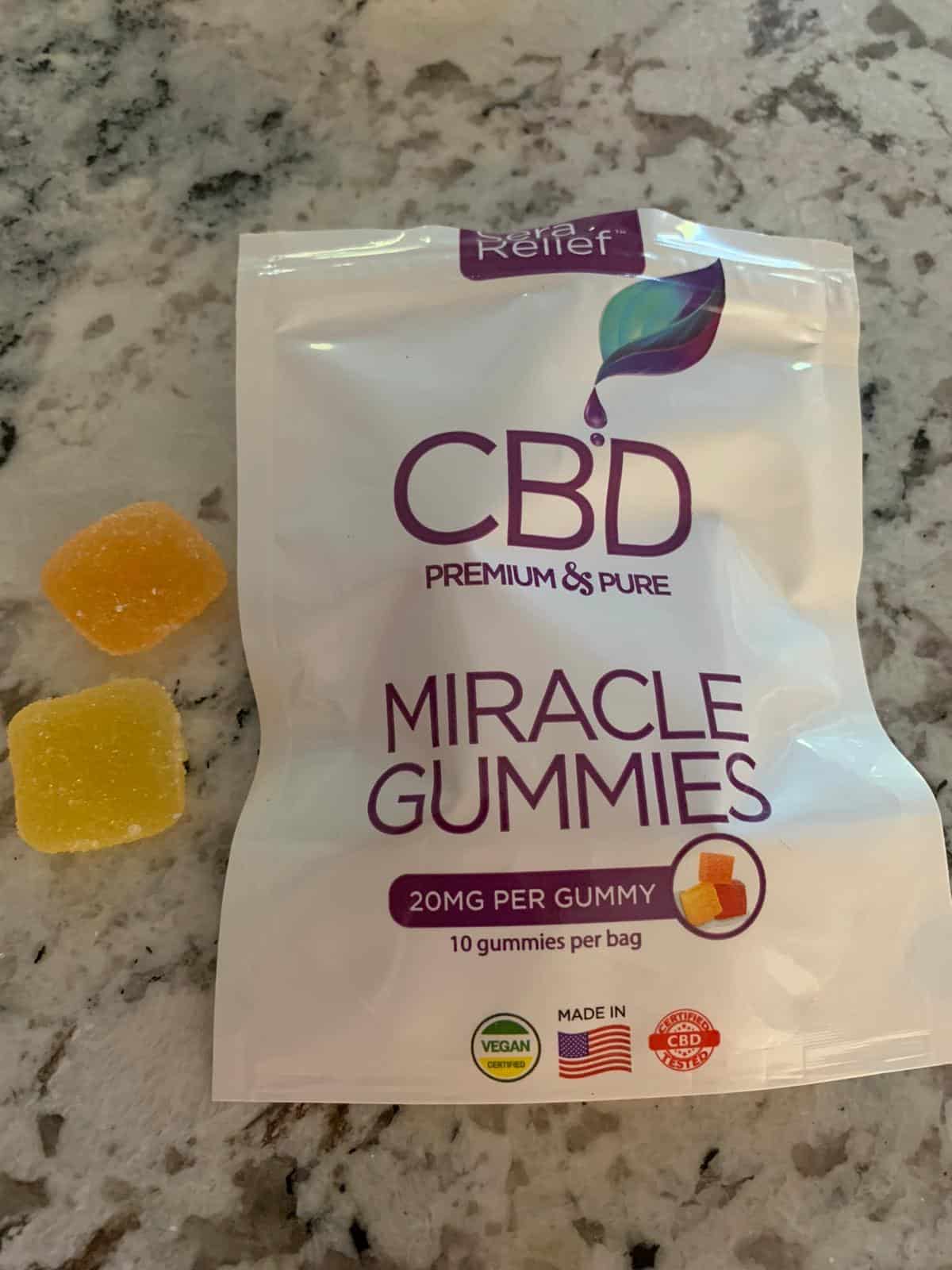 ---
How the Sera Labs CBD Miracle Gummies Worked for Me

Each time I had these CBD gummies I experienced the same type of effects. Within 30 minutes or so, I felt calm, and my mind wasn't as busy. While working, it's common for me to bite my nails when my creativity gets blocked or I'm trying to meet a tight deadline. But, after consuming one of these gummies, the urge to bite them wasn't as strong.
Even though I don't love the taste of all the flavors, I can't complain about the effects. I was happy overall with how I felt. I don't know if I would call them "miracle gummies" the way Sera Labs does, but they helped me stay calm and relaxed.
---
Useful and Unique Things to Know About The Sera Labs CBD Miracle Gummies
Sera Labs CBD Gummies are suitable for vegetarian and vegan diets because they don't contain animal by-products. This is a feature that's unique to some gummies, but not most. Like other brands, these gummies don't contain artificial colors or flavorings, an advantage for those who prefer a natural formula.
---
Sera Labs CBD Miracle Gummies Ratings
In the next section, we provide ratings from 0-100 based on our testing period. Add up these ratings to arrive at an overall score for the product.
PRESENTATION • 90
The packaging is underwhelming, but the labeling is detailed.
RELIABILITY • 100
Each gummy was the same size and had a consistent potency.
QUALITY • 90
Uniformity of quality in each gummy.
FLAVOR / SMELL / or EASE OF USE • 85
The fruit flavors of these gummies were mediocre.
VALUE • 90
Priced slightly higher than most other brands, but the effects are good.
---
PROS of the Sera Labs CBD Miracle Gummies
These CBD gummies by Sera Labs have some great qualities. First, they have a medium-strength dose of 20mg each and contain CBD from hemp that was grown in the United States. Also, this product was manufactured in an FDA approved facility where CO2 is the extraction method of choice. Finally, the company uses natural flavors and packages the 10 gummies in an easy to zip lock bag.
---
CONS of the Sera Labs CBD Miracle Gummies
There are a few cons with these Sera Labs gummies. They don't have the best taste, and they're only available in a CBD isolate formula, there's no broad- or full-spectrum option.
Also, another con is the lack of lab testing. There's a test for the cannabinoid profile. But, there's no test for pesticides, heavy metals, residual solvents, mycotoxins, or microbial content.
---
How Sera Labs CBD Miracle Gummies Stack Up Against the Competition
Compared to other CBD gummies, Sera Labs miracle gummies don't stand out against the competition in any obvious way, but they're not bad by any means.
I'd say they fall someone in the middle compared to the other available choices. This statement factors in quality, taste, price, and effects.
---
Saving Money with Our Verified Sera Labs Coupons
Save money by using our verified CBD Gummies here at Save On Cannabis the World's largest online cannabis coupon code directory.
---
Disclosure: I received these products gratis so that I could try them and then share my honest opinion with the SOC community. I am employed by Save on Cannabis to write honest reviews and provided a flat rate payment for the writing of the review. SOC may receive recurring affiliate payments for purchases made based on this content.
We tested the All Natural Way 1000mg CBD tincture, see how it worked for our expert. Used in real world pains, find out if the tincture is worth your money.
In this Cannabis Life Delta-8 Gummies review our team tests out the high from this legal hemp product. Also save with Cannabis Life coupons.
Read our Infinite CBD review of the Nano CBD Water! Our expert tried, tested and photographed click to learn about what we thought.