CBD Review: Enflower – CBD Coffee Mask
Oct 5, 2019 | Romy
Enflower - CBD Coffee Face Mask
Pros
Smells amazing
Softens skin
Natural
Easy to use
Exfoliating
Enflower – CBD Coffee Face Mask
Product Review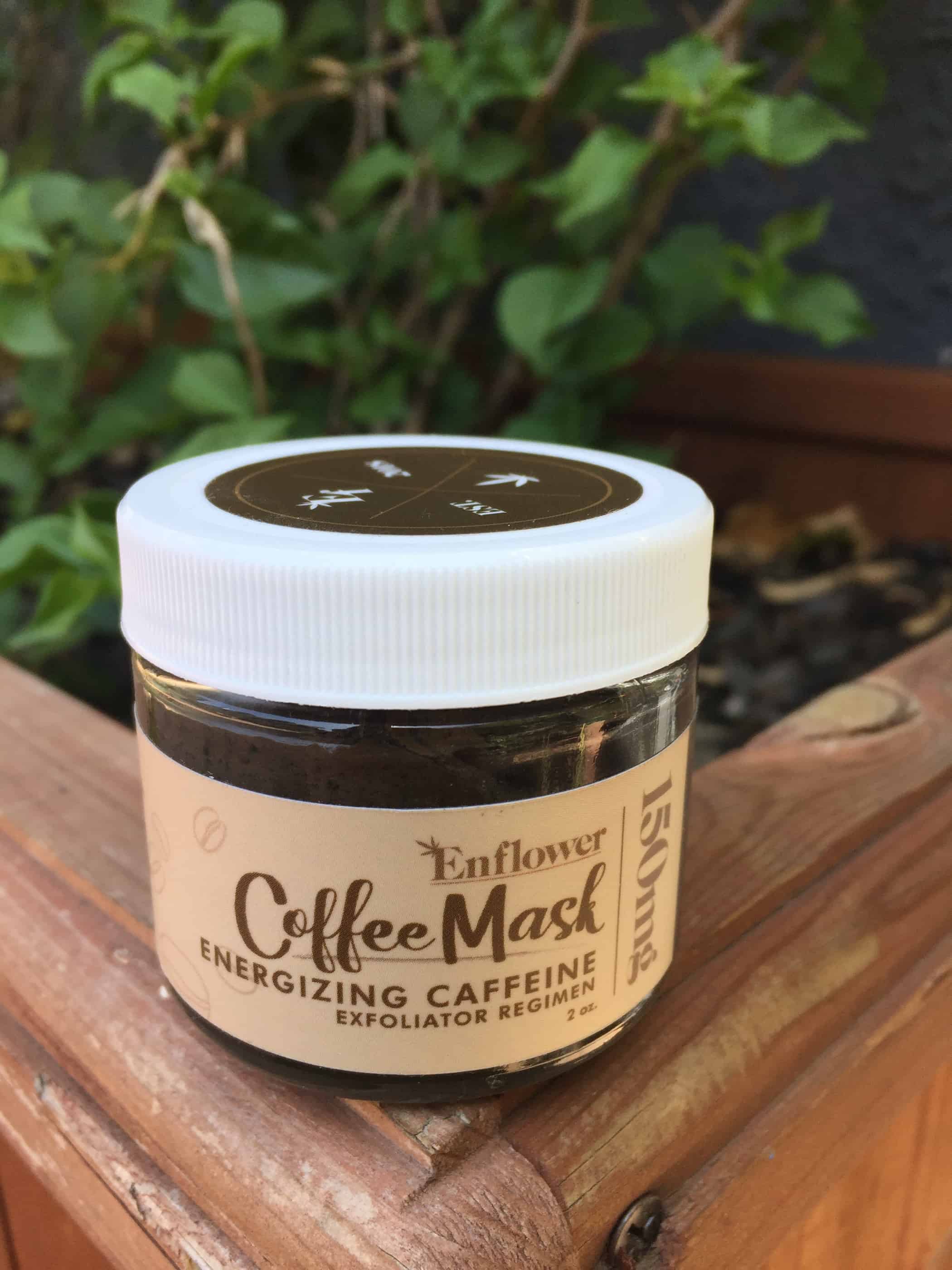 Brand Overview: Enflower
Enflower creates CBD-infused skin and body products for beauty and health. Made with only natural ingredients, Enflower's bath bombs and skincare line uses only the highest-quality CBD to bring your beauty or relaxation regimen to a whole new level. The company was founded by Shayna Turbovksy, who partnered with CBD company Steve's Goods to bring you products straight from the farm in Colorado. The products are developed and tested by women, but don't let the marketing fool you–anyone can use these skincare products and bath bombs, so whatever your gender, enjoy the sweet-smelling healing this company has to offer.
Products: Face Masks, Eye Cream, Moisturizer, Bath Bombs, Pain Salve, Suppositories..
Price Range ($-$$$$): $$$$
---
About the Enflower CBD Coffee Face Mask
Enflower combines the health benefits of coffee and the health benefits of topical CBD to create an exfoliating scrub to add to your daily skincare regimen. Using all-natural ingredients, this scrub will wash away dirt and dead skin cells to reveal the brighter and healthier skin underneath. Exfoliating the skin becomes more important the older we get, as cell regeneration slows down. When old skin cells clog up the skin, your face can get dry or oily. After washing your face with warm water, smooth this mask over your skin in circular motions to get rid of those pesky dead skin cells. Let the mask sit for five to ten minutes then wash it off to reveal a brighter you. You can also use Enflower CBD Coffee Face Mask as a body scrub. For those with a sensitivity to caffeine, Enflower recommends keeping the scrub on for only five minutes.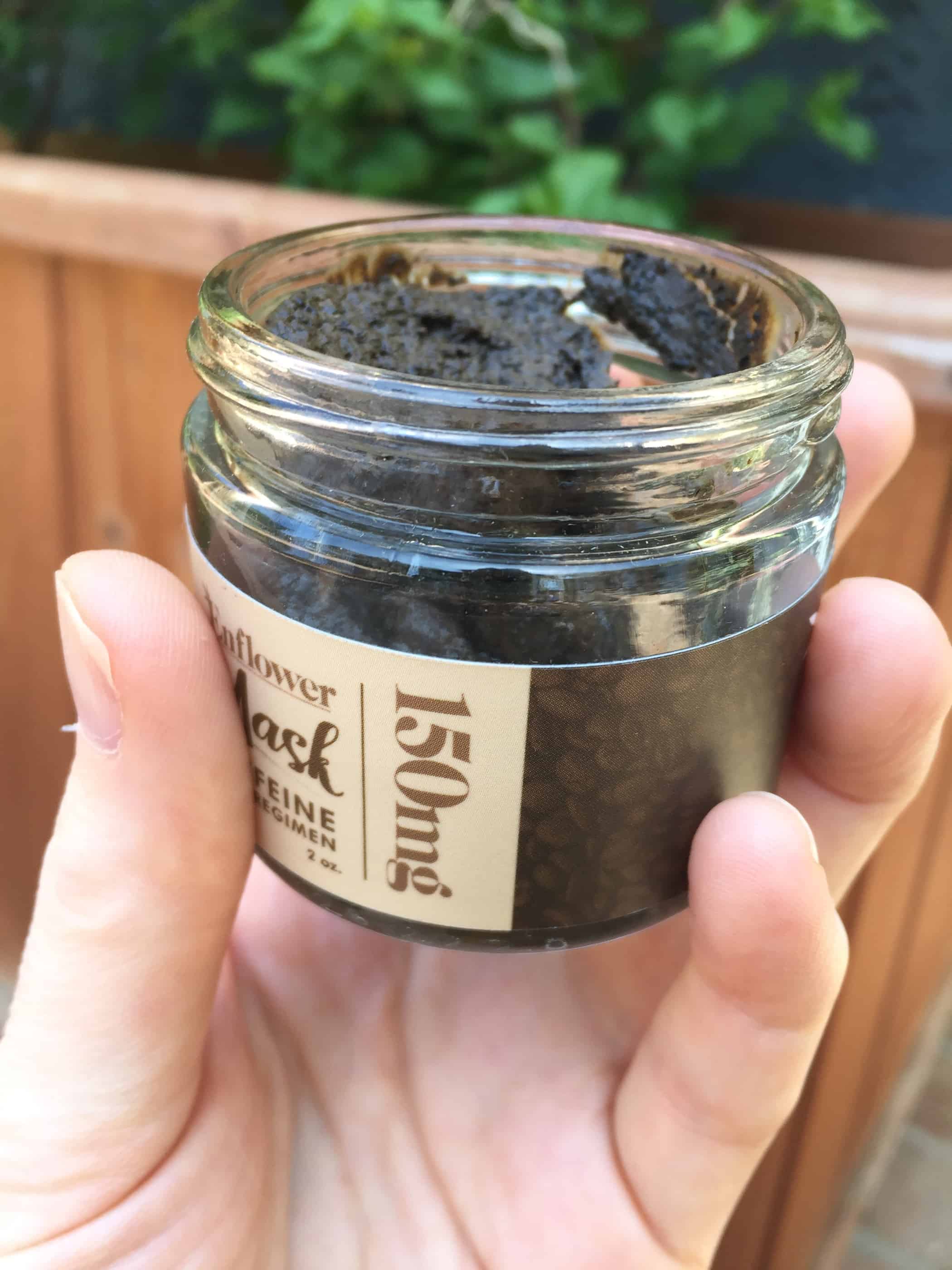 ---
Enflower CBD Coffee Face Mask Specifications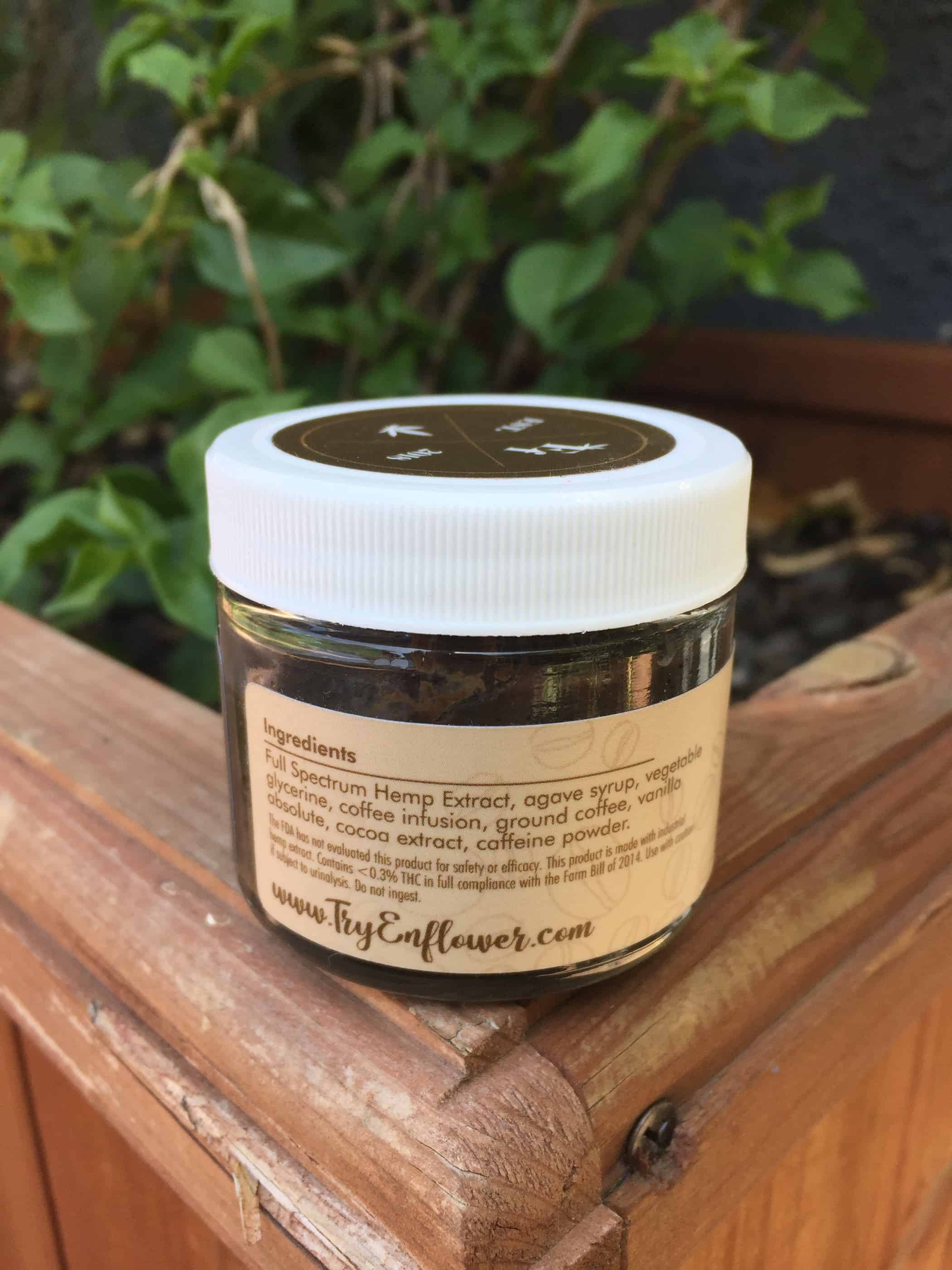 2 oz 150 mg CBD
Agave Syrup
Vegetable Glycerine
Coffee Infusion
Ground Coffee
Vanilla Absolute
Cocoa Extract
Caffeine Powder
---
How We Tested the Enflower CBD Coffee Face Mask
My skin is somehow both so dry that I can't put make-up on because it will just crack and flake off and so oily in the T-Zone that I still get acne on occasion even in my late-thirties. I was interested in trying Enflower's exfoliating coffee face mask with the hope that it would even out and brighten my skin. I read that you should exfoliate in the morning because your skin renews itself overnight, which explains why when I don't sleep well I look extra haggard. After washing my face in the morning, I applied a layer of the Enflower CBD Coffee Face Mask to my forehead, nose, cheeks, and chin. Since I'm sensitive to caffeine, I kept the mask on for five minutes before washing it off with warm water and a washcloth. I did this every day for a week along with using Enflower's CBD eye cream every night.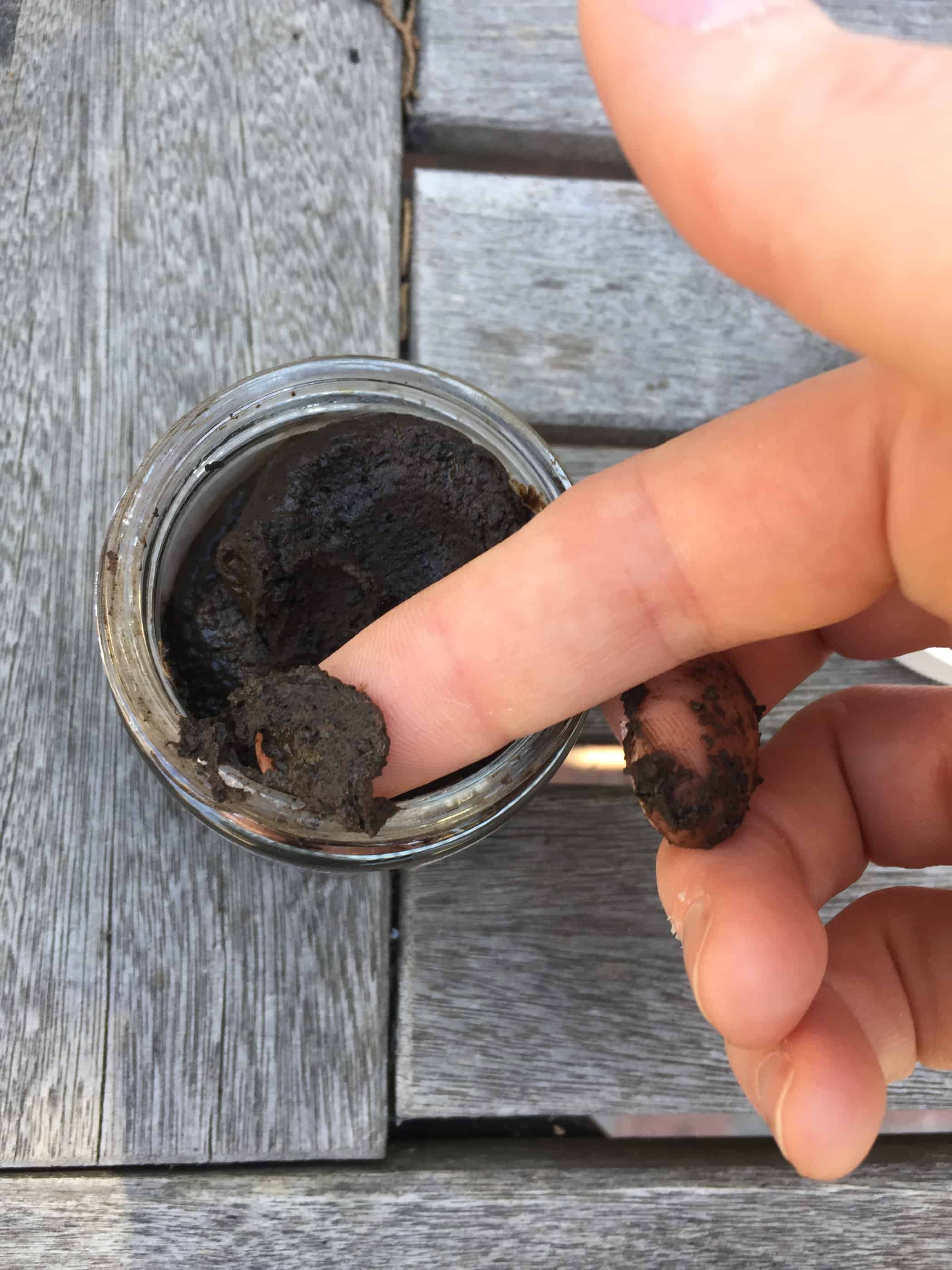 ---
How the Enflower CBD Coffee Face Mask Worked for Me
Even after the first time I used this coffee and CBD-infused face mask, my skin looked refreshed and rejuvenated. It smells strongly of cocoa and vanilla with a touch of coffee. Its texture reminds me of chocolate frosting mixed with coffee grounds. I had a hard time trying not to taste it because it smelled so appetizing. With ingredients like coffee, cocoa extract, and vanilla absolute, I'm fairly certain this stuff is edible, though I'd check with Enflower before you start baking with this stuff. I have a hard time sleeping due to some injuries that leave me in chronic pain so I often look tired and worn. After using the Enflower CBD Coffee Face Mask once every morning for a week, I noticed a marked difference in how tired I look. Even if I only got a few hours of sleep, I could use this face mask in the morning to look and feel better.
---
Useful and Unique Things to Know About Enflower CBD Coffee Face Mask
Combining caffeine and CBD might seem counterintuitive as one is known for its energy-inducing properties while the latter is known for being relaxing. Upon closer inspection, however, it becomes clear that the combination of caffeine and CBD can complement each other, increasing each other's effectiveness, and reducing some of the jittery side effects. Both CBD and caffeine contain antioxidants, which help purify the skin of toxins and work against inflammation, redness, and puffiness.
---
Enflower CBD Coffee Face Mask Ratings
In the next sections gradings from 0-100 on our review, these grades add up to give the product's overall score.
PRESENTATION • 100
Simple, pretty packaging
RELIABILITY • 100
Made my skin soft and smooth.
QUALITY • 100
Natural ingredients.
FLAVOR / SMELL / or EASE OF USE • 100
Smells like a delicious dessert.
VALUE • 80
Slightly expensive.
---
How the Enflower CBD Coffee Face Mask Stacks Up Against the Competition
Enflower is almost in a league of their own as I could only find one other company that makes an exfoliating coffee face mask that is also infused with CBD. Blue Ridge Hemp has a CBD-infused coffee and salt scrub. A 4 oz jar contains 100 mg of CBD and will cost you $40. In comparison, Enflower sells a 2 oz jar containing 150 mg of CBD and costs $34.99. Non-coffee-infused CBD scrub alternatives include Life Elements' rosemary mint CBD exfoliating scrub and Seventh Sense's eucalyptus spearmint CBD sugar scrub.
---
Saving Money With Enflower Coupons
Save money on all Cbd Topicals , Cannabis for Skincare here at Save On Cannabis the World's largest online cannabis coupon code directory.
---
Disclosure: I received these products gratis so that I could try them and then share my honest opinion with the SOC community. I am employed by Save on Cannabis to write honest reviews and provided a flat rate payment for the writing of the review. SOC may receive recurring affiliate payments for purchases made based on this content.
Sorry, no coupons were found.
In this Pure Relief review we got to test out the hemp CBD pre-rolled joints. See if they gave us the ease and relief they claim to offer.
Suck away the stress and boost your immunity with a CBD lollipop. Sounds too good to be true, find out if is true in this Vida Optima review.
Gummies are a very popular way to take CBD. In our Pure Relief review see if their Daytime 900mg CBD Gummies pack the punch we needed.