CBD Pet Review: Bark Avenue Grandpaw's Hemp Creations (Peanut Butter)
Jan 7, 2019 | Save On Cannabis
Bark Avenue Grandpaw's Hemp Creations (Peanut Butter)
Pros
Taste, Dogs Loved Them
Low Priced / Affordable
Organic
Bite Sized
Easy Dosage Information
Holistic Healthcare Option
Excellent Number of Treats Per Bag.
Cute Bone Shape
CBD Oil Helps Arthritis Pain & Cognitive Function
Cons
Too Hard For an Old Dog to Chew Effectively
Dry
Could Use a Dog On Package
This Bark Avenue Review Is From Various Real Users
For this review, we wanted to do something very special and get many perspectives from various dog owners who were looking for relief for their furry friends.  These are not expert reviews but instead actual users who really needed and wanted the treats for their pet.  Some of these users had actually used CBD for their pet previously and others were completely new to trying CBD for their animal.  In the following sections, we break down the reviews by each owner, their pet and experience.  Here at Save On Cannabis, we have not edited any of their reviews in any way, they are printed as they wrote.  The score you see for the overall rating is a composite of all the number ratings that the reviewers each gave.
Bark Avenue Overview
Bark Avenue's mission is to enhance your pet's wellness through all-natural, artisanal, tasty hemp dog treats. Caring for your animals with a simple focus on a quality product is our passion, and they strive to go the extra mile to make you and your pets happy every day!
Bark Avenue is family owned, small batch, and utilize a Culinary Institute of America professional chef formulator and they pride themselves on using whole food ingredients through sustainable sourcing, and a simple focus on a quality product.  They believe in product transparency and use high-quality Colorado grown full spectrum oil.  All of their products are all-natural, chemical free, and cruelty-free. Made in the USA.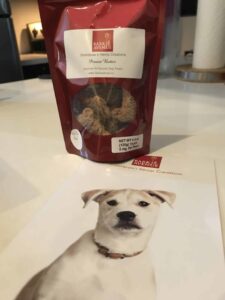 Review by Kelli
Pembroke Welsh Corgi/33 pounds/Hoping to help with anxiety, arthritis and other symptoms associated with her degenerative myelopathy.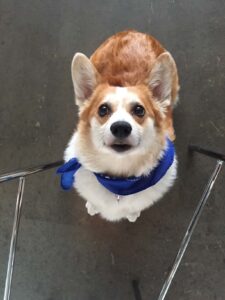 I was excited to start this product for Penny because I'm very interested in going with a more holistic approach in her care. Dogs with degenerative myelopathy do not do well with modern drugs and I read that in some dogs seemed to cause their DM to progress faster. Lately, at night she has been restless and when I give her a treat before bed she sleeps through the night. I also live in a neighborhood where they often shoot off fireworks my dog is deathly afraid of them. On these treats, she did still notice when one went off but she wasn't as terrified as she normally is. While testing these treats I discontinued the CBD oil I normally have her on to see how the treats would help her arthritis. I feel her arthritis is perhaps too much for the dosing on these treats. I did not see the same improvements I see with the CBD oil.
How the Bark Avenue Worked for Me
Bark Avenue was thoroughly enjoyed by my dog. She was always excited to get one. I will be purchasing and using these treats again for helping her sleep at night. She has been having a lot of trouble getting comfortable at night but after just one treat she would be out the whole night.
Useful and Unique Things to Know About Bark Avenue
I liked the fact that these were treats and that my dog would just immediately take it from me and eat it. I have tried to give her tinctures before and she was not interested. She also would sometimes refuse it even in her food but these treats she happily accepted.
Kelli's Bark Avenue Rating Breakdown
Gradings from 0-100
PRESENTATION • 100
The packaging was nice, they included some pamphlets in the package. The treat itself is well shaped and looks good.
RELIABILITY • 100
The product helped with her anxiety, helped to sleep through the night.
QUALITY • 100
These are well-made treats These treats kept their shape and didn't crumble in the packaging.
FLAVOR and SMELL • 100
The flavor was peanut butter and it did indeed smell like peanut butter.
VALUE • 100
Well priced for Hemp Oil treats. $26.99 for 15 pieces.


Kelli's PROS of the Bark Avenue Treats
Palatable for picky dogs.
Easy dosage information.
Affordable
Holistic healthcare option.
Corgis eat anything so I'm not surprised she scarfed this treat down but I'm sure any dog would eat this treat. Dosing is spelled out simply on the package and very easy to give to your dog. Price is great.
Kelli's CONS of the Bark Avenue Treats
Potency
I didn't feel this treat was strong enough to help arthritis pain. Perhaps if I gave her a higher dose I would see a difference.
Review by Megan
We have a 12-year-old Cockapoo that weighs 20lbs. We were hoping the Bark Avenue Hemp dog treats would help with her itchiness and restlessness/anxiety. We were excited to try hemp treats for our dog because we had heard great things about them! We gave our dog 1 treat in the morning and 1 in the afternoon. We thought the test went pretty good, but we wish we would have tried giving our dog a higher dose in a single day and compared it to the days when we gave her just two. We did not test with any other products.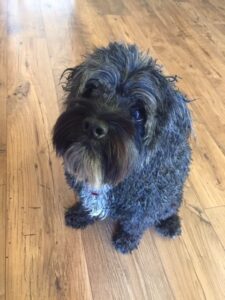 How the Bark Avenue Worked for Me
The Bark Avenue Treats was a tasty little treat for our dog. She loved the flavor! We did notice that our dog was more relaxed and less restless during the night. She also seemed to jump up on the bed with more ease. We would buy the treats again if our dog was in constant pain and had bad arthritis. They did help our dog in positive ways and she loved the flavor.
Useful and Unique Things to Know About Bark Avenue
We didn't have any surprises during the testing. We hadn't tried any other Hemp products for our dog so we didn't have anything to compare this product too.
Megan Bark Avenue Rating Breakdown
Gradings from 0-100
PRESENTATION • 100
Well packaged. Cute Heart Designed treat.
RELIABILITY • N/A
We didn't give proper dosing to know for certain how reliable.
QUALITY • 100
Quality ingredients. Dog loved the taste.
FLAVOR and SMELL • 100
Our dog didn't hesitate at all to eat it. She would run over as soon as we started to open the package.
VALUE • 98
Good sized treat.
Megan's PROS of the Bark Avenue Treats
Taste
Size of Treat
Our dog loved getting these yummy treats. They were a good size and the dose we used did seem to make a difference in her restlessness.
Megan's CONS of the Bark Avenue Treats
Price
If we had given our dog the max daily dose the treats would have been finished up very quickly. We would need to buy many packages to keep up.
Review by Mike
I chose to review this product to see if it would benefit two of my aunt's four dogs. They are both elderly chihuahuas about 7 pounds each. One is blind and deaf and the other is really old and doesn't leave her bed much.

How the Bark Avenue Worked for Me
At first, none of the dogs seemed interested. Then I tried a few days later, this time breaking the treats up into smaller bite-size pieces. This seemed to work as all four dogs wanted the treats. This technique seemed to work the next few times with the two dogs I was initially giving the treats too. Didn't notice much change at first, then both dogs seemed to have a little more energy. The blind dog would get outside more and the older dog would get out of bed and move around.
Useful and Unique Things to Know About Bark Avenue
The dogs liked the peanut butter flavor. One suggestion would be smaller, softer treats for older dogs.
Mike's Bark Avenue Rating Breakdown
Gradings from 0-100
PRESENTATION • 100
The packaging and the product itself looked well made.
RELIABILITY • 100
It seemed to do what it was supposed to and the dogs enjoyed eating them.
QUALITY • 100
They looked so good I almost ate them myself.
FLAVOR and SMELL • 100
I didn't get a hint of any hemp or cannabis smell that tends to come with products containing said ingredients. All I could smell was peanut butter.
VALUE • 100
I would buy these in the future for my dogs.
Mike's PROS of the Bark Avenue Treats
Quality product.
Well made.
My dogs enjoyed them.
Mike's CONS of the Bark Avenue Treats
My only con is the packaging. Needs a picture a dog or something because people might mistake them for human treats.
Review by Dana
We used Bark Avenue treats for our 14-year-old dachshund with chronic neck pain due to a previous neck surgery.  She also had cancer and was losing weight and had loss of appetite.  The CBD oil definitely helped her, but due to the fact that her teeth were not in the greatest condition at this age, she had difficulty chewing the treats as they were somewhat hard.  When we added some water to them, she was able to eat them.  The taste seemed to be good since she did enjoy them.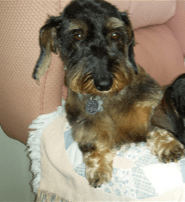 How the Bark Avenue Worked for Me
These did work for our dog, but as I said previously, they were somewhat hard for her to chew.  We will try them for our younger dog who also has some neck pain.
Useful and Unique Things to Know About Bark Avenue
Bark Avenue treats were very cute and came in a paw print shape.  These would be a good gift as well.
Dana's Bark Avenue Rating Breakdown
Gradings from 0-100
PRESENTATION • 100
RELIABILITY • 90
QUALITY • 80
FLAVOR and SMELL • 90
VALUE • 90
Dana's PROS of the Bark Avenue Treats
An excellent number of treats per bag and dog enjoyed eating the taste.
Bite-Sized
Organic
Cute Dog Bone Shape
CBD oil helps with arthritis pain and cognitive function.
Seemed to Like Flavor
Dana's CONS of the Bark Avenue Treats
Too hard for an old dog to chew effectively.
Too Dry
Saving Money With  Bark Avenue Coupon Codes
Save money with CBD Pet Treat coupon codes here at Save On Cannabis the World's largest online cannabis coupon code directory.
Disclosure: All reviewers received these products gratis so that they could try them and then share their honest opinion with the SOC community. No reviewer in this post is employed by Save on Cannabis and received no payment for the writing of the review.  SOC may receive recurring affiliate payments for purchases made based on this content.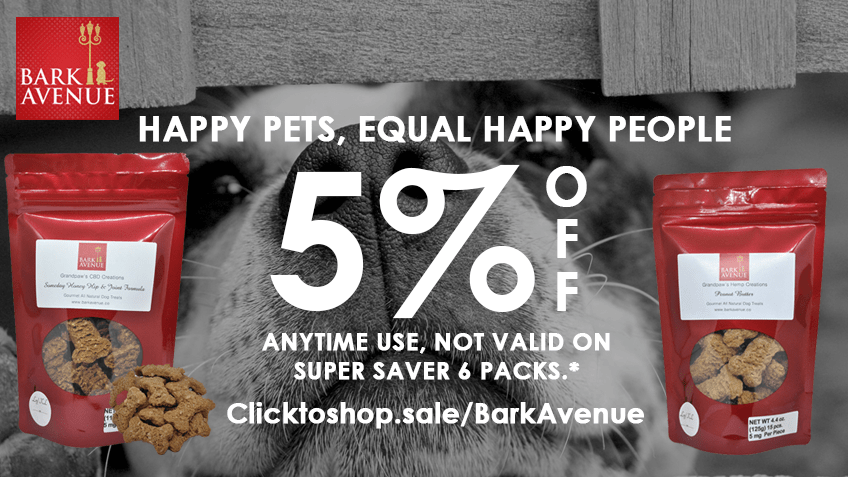 5% off recurring anytime use at Bark Avenue! Get CBD pet treats for your dog online.
FInd out in this 43 CBD Solutions review if their 150mg Extra Strength CBD Salve helped soothe our reviewer's fibromyalgia & arthritis pains.
Having trouble sleeping on a regular basis our reviewer, in this CBDistillery review they try out the Sleep Gummies with CBD & Melatonin.
Unflavored CBD concentrate to vape from iHemp and sold by Pure CBD Vapors. We use it for a week to test out its value in this iPure review.