Best Movies to Watch High – Best Cannabis Strain Pairings for Oscars 2018, Best Stoner Movies, and more
Feb 27, 2018 | PurpleGirl
With the 2018 Academy Awards coming up, now is the perfect time for a trip to the local cinema to catch this year's nominees or to relax in the comfort of your own home and rewatch one of your favorites. Taking cannabis is a great way to set the mood for a flick and the right strain can deepen your enjoyment and amplify the sensory experience. That's why cannabis users often find themselves craving a good movie to watch, wondering which may be the best movies to watch high.
The best weed strains for watching a movie largely depends on the type of cannabis strains that you like the most and what your past experiences have been like with different types of strains. If a sativa make you feel a little paranoid, then it's probably not a good choice to have before seeing Get Out or any thriller or horror film. If you're queuing up the Godfather trilogy, you may not want to indulge in an indicia that you take for your insomnia (each movie alone runs close to three hours).
But if you're in the mood to try a new cannabis strain or want some good movie picks to check out after taking your favorite, we have a few suggestions. Read below for what cannabis strain is best for watching few 2018 Best Picture Nominees and past Best Picture winners. Plus, we share our recommendations for Best Movies to Watch High and Best Stoner Movies. Add your recommendations in the comments!
Academy Awards 2018 Best Picture Nominees 
The Shape of Water – If you want to sink in (pun intended) to the quirky, stylized world of The Shape of Water, an indica or indica-hybrid like Star Killer is a good choice. However, you may want to select something that will give you a little more energy without ruining your focus, like Jack Herer, Blue Dream, or Supernatural. These strains will fuel your creativity so you can ride the arty vibes of this film and create an imaginative world of your own!

The indica-dominant cannabis strain Blackberry Cream is perfect for relaxation, stress-relief, and enjoying our list of best movies to watch high.

Get Out – This Best Picture nominee features entertaining twists and turns, compelling characters, and incredible cinematography.  Viewers who want to relax and get absorbed into the world of the film may try an indica-dominant hybrid like Blackberry Cream

or

Frankenstein. Paranoia-immune, seasoned cannabis users looking for something a little"trippy," may find this to be the perfect opportunity to try the sativa-dominant cannabis strain Jack the Ripper, known for its quick-to-arrive and intense high.   Keep an eye out for the scene that brings the term "couch lock" to a new level!
Three Billboards Outside Ebbing, Missouri – This very serious drama is not for the faint-of-heart, so start with a balanced hybrid like Gorilla Glue. Once you're accustomed to the movie's tone and subject matter, you'll know if you want to follow GG with a straight-up indica, such as Purple Kush. If you're hesitant to take too much THC while watching such an intense movie. you may feel more comfortable with a high-CBD strain that will help relax you without giving you a head high, like Pennywise or ACDC.
Best Picture Winners
Been meaning to watch one of these epic Oscar winners from years past? Grab one of our recommended cannabis strains, your favorite munchies, and get streaming!
The Godfather (1972) What makes this movie stand the test of time is its rich and dynamic characters and captivating storytelling. Though hundreds of mafia-related movies and television shows, launched since its premiere, none have come close to the original. Pair with: Black Diamond, Girl Scout Cookies, Diamond OG.
West Side Story (1961) Don't let the beautiful music and stunning choreography fool you into thinking this movie is Broadway fluff. This midcentury update of Romeo and Juliet puts violence and intolerance on center stage with a story that is as relevant today as it was when West Side Story hit theatres. Pair with: Church OG, White Widow, Chucky's Bride, Lamb's Bread.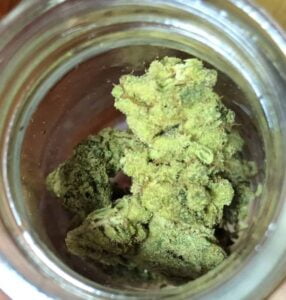 The Lord of the Rings: Return of the King (2003) The last of the Lord of the Rings trilogy is arguably the best. Abandon your sense of disbelief and escape into Middle-earth for this satisfying and adventurous conclusion. Pair with: Zombie Haze, Black Magic Kush, Hobbit (of course!).
Best Movies to Watch High
These movies are excellent, no matter your state of mind or sobriety, but the right cannabis pairing will help to magnify your viewing pleasure by enhancing visuals, relaxing your body and mind, and helping you to laugh a little more easily. Here are our recommendations for best movies to watch high!
The Big Lebowski
Superbad
Friday
Fear and Loathing in Las Vegas
Dazed and Confused
Monsters Inc.
Best Stoner Movies
We get it. Sometimes the best movies to watch high are the ones that seem like the people who made the movie were also high.  If you just want to kick back and enjoy a hilarious comedy especially suited to marijuana lovers, these are our go-tos for best stoner movies.
Half-Baked
Bill and Ted's Excellent Adventure
Dirty Work
House Party
PCU
This is the End
We hope you enjoy our picks for your next movie and cannabis extravaganza! Did we leave anything out? Tell us in the comments!
Don't forget to save on cannabis by checking out our online cannabis coupon codes from the best online cannabis brands. We have cannabis promo codes for sativa, indica, hybrids, CBD as well as cannabis accessories, cannabis grow tools, and accessories. Check it out!

Shop Smarter
Don't miss on the biggest deals! Sign up now for FREE.
Discover the top Las Vegas dispensaries for the best cannabis selection and customer service. Your guide to the best awaits in this guide!
Looking for weed delivery in Los Angeles? Discover your ultimate guide to getting cannabis delivered right to your doorstep.
Understand the duration of how long does a edible stay in your system and its impact on your body. Read our blog for insights.